Third-gen iPad's 'window of opportunity' expected to drive Apple market share gains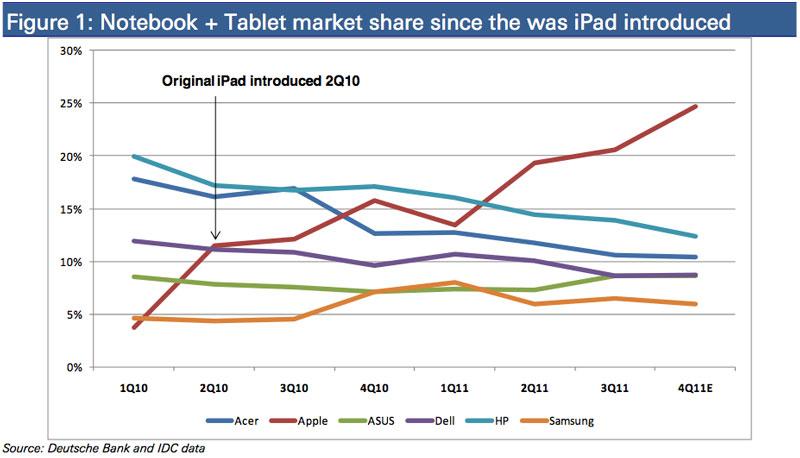 AppleInsider is supported by its audience and may earn commission as an Amazon Associate and affiliate partner on qualifying purchases. These affiliate partnerships do not influence our editorial content.
Apple's third-generation iPad is expected by one market watcher to soon arrive during an advantageous "window of opportunity," in which competitors have nothing significant to offer, that will further increase the company's lead in the mobile computing market.
Analyst Chris Whitmore with Deutsche Bank said in a note to investors on Monday that the line between tablets and notebook computers is rapidly blurring as devices like the iPad become more powerful. He noted that uses for the iPad have rapidly expanded to include textbooks, medical diagnostic tools, and pilot flight bags.
With a third-generation iPad expected to arrive in March, Whitmore sees Apple announcing a new model with a high-resolution display, a quad-core CPU, graphics performance four to five times faster than the iPad 2, and Siri voice control. Additional power in the so-called "iPad 3" will only expand the potential uses for the device and leave competitors further in the dust, the analyst believes.
"With other tablet vendors in disarray (shifting from Android to Win8), we expect the iPad 3 introduction to drive additional share gains in the mobile computer market," he said.
Estimates from Deutsche Bank, combined with data from IDC, suggest that Apple currently has a 25 percent share of the combined notebook and tablet market. The next closest competitor is HP, which had a 12 percent combined total in the fourth quarter of calendar 2011, followed by Lenovo and Acer, both with 10 percent.
Whitmore said none of the iPad competitors introduced in the last 12 months have come close to the iPad, as most of the products have been "me-too" offerings with little differentiation with one another. He believes the Samsung Galaxy Tab 10.1 and Asus's Transformer Prime are "more relevant" products as iPad competitors than Amazon's Kindle Fire.
But as Android-based iPad competitors have fallen short, Whitmore believes many device makers are shifting away from Android and are now looking toward the launch of Windows 8, which will feature support for low-power ARM chips found in tablets. But with a three-year head start and about 170,000 applications already available for the iPad, he doesn't see Microsoft's Windows 8 catching up in tablets anytime soon.
"Win8 based hardware is unlikely to ramp in earnest until 2013," he wrote. "This leaves the window wide open for Apple to extend its lead in the market and drive substantial growth and profits going forward."
Deutsche Bank sees "phenomenal product momentum" from Apple going forward, particularly with the iPhone and iPad, driving healthy growth into 2013. The investment firm has reiterated its "buy" rating for AAPL stock with a price target of $600.