Apple retakes crown as world's top smartphone maker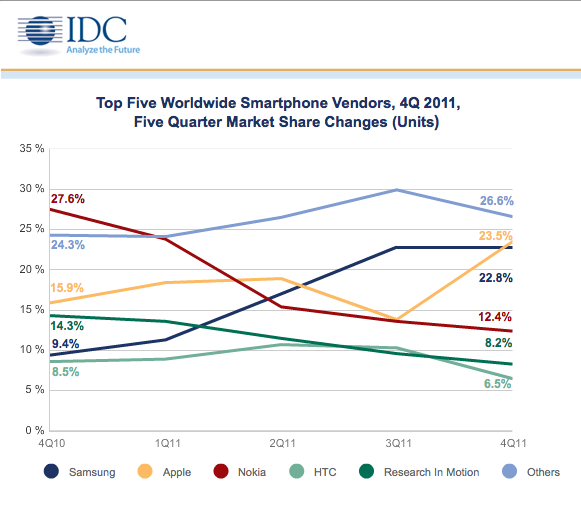 AppleInsider may earn an affiliate commission on purchases made through links on our site.
After tallying the numbers from top smartphone manufacturers' fourth quarter 2011 earnings, it was revealed on Monday that Apple has wrested the top spot from Samsung following the highly successful iPhone 4S launch.
According to a press release from market research firm IDC, Apple's 37 million iPhone sales during the December quarter was enough to once again put the company at the head of the smartphone pack with a market share narrowly beating that of its main competitor Samsung by one percent.
The firm's Worldwide Mobile Phone Tracker saw Apple ride an industry-smashing quarter o grow its share of the market by 128.4 percent year-over-year to end with a 23.5 percent market share, while Samsung grew 275 percent to finish with a 22.8 percent share.
The fourth quarter saw Apple selling 37 million iPhones compared to the 36 million units Samsung sold, which included various Android-based models like the Galaxy S II and the Galaxy Nexus.
Despite being ousted from the driver's seat, Samsung broke records of its own, including passing the 30 million unit sold mark, netting the largest year-to-year increase among smartphone makers and ending 2011 as the world's overall market leader.
Overall, the worldwide smartphone market grew 54.7 percent from the year ago quarter as vendors shipped 157.8 million devices, compared to 102 million in 2010.
"By the end of the quarter, one out of every three mobiles phones shipped worldwide was a smartphone," said senior research analyst with IDC's Mobile Phone Technology and Trends team Ramon Llamas. "The launch of Apple's iPhone 4S played a key role in smartphone growth to capture pent-up demand, and smartphone launches from other vendors also provided a broad selection to meet varying preferences and budgets."
Nokia was the industry's biggest loser and posted the largest year-to-year decrease among top smartphone vendors. The company announced in early 2011 that it had entered a partnership with Microsoft and would be abandoning the Symbian operating system for Redmond's new Windows Phone platform. Following a dismal earnings call in January, the Finnish phone maker warned that the transition would continue impact sales well into 2012.
In a recent report regarding the trend away from PCs and toward mobile devices, research group Canalys noted that Apple had beaten Samsung to become the world's largest smartphone vendor, though it fell short of estimating specific sales numbers from the South Korean electronics maker.
The iPhone was also credited with bringing Apple some 75 percent of all mobile phone profits, including so-called feature phones, during the quarter on just 9 percent of sales.