Apple continues adding Lion Internet Recovery support to 2010 Macs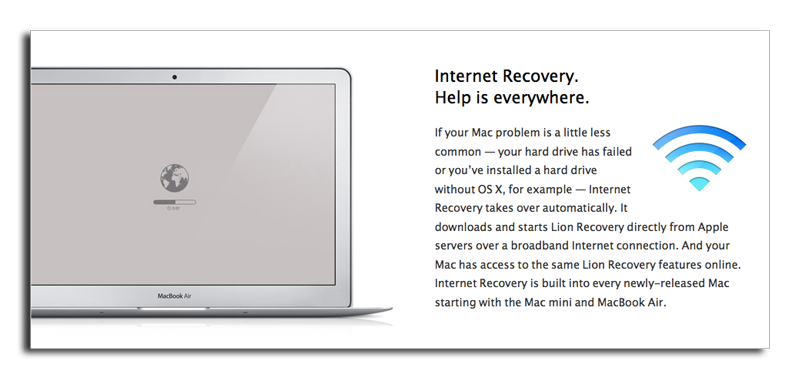 AppleInsider is supported by its audience and may earn commission as an Amazon Associate and affiliate partner on qualifying purchases. These affiliate partnerships do not influence our editorial content.
Apple on Tuesday released several EFI firmware updates for its 2010 Macs to enable the Lion Internet Recovery feature to the older machines.
The Cupertino, Calif., company posted updates for its MacBook Air (Late 2010), iMac (Mid 2010) and MacBook Pro (Early 2010) models. The new firmware also comes on the heels of last month's MacBook Pro (Mid 2010) and Mac mini (Mid 2010) updates.
Each of the upgrades adds support for Lion Recovery over an Internet Connection. The feature first made its debut on last year's MacBook Air and Mac mini models, both of which lack optical drives allowing for more traditional recovery methods. Internet Recovery lets users start their Macs directly from Apple's servers. Macs released earlier in the year, such as the Thunderbolt MacBook Pro and iMac, received an EFI firmware update last fall to add the feature.
Tuesday's MacBook Air firmware update also addresses an issue where the system would sometimes restart when the power button was pressed immediately after waking from deep sleep.
Apple released Mac OS X Lion last summer. The operating system has seen a series of improvements since then, with the latest coming last week in the form of 10.7.3.