iTunes-sponsored live Paul McCartney concert to stream for free on Apple TV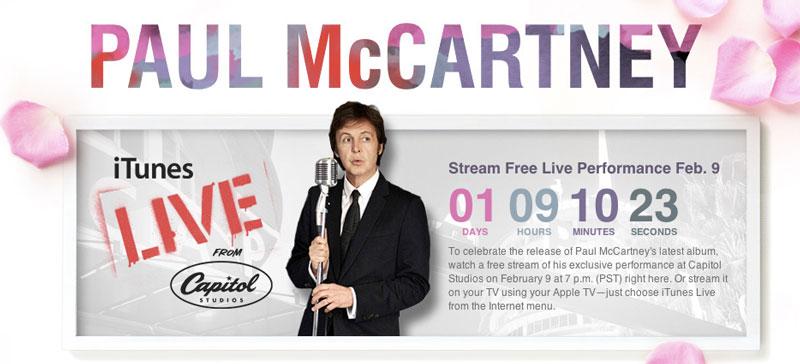 A live concert from legendary artist Paul McCartney will be streamed live by Apple to iTunes and Apple TV set-top boxes on Thursday.
The singer-songwriter's event is being hyped on his official page on iTunes, where it is counting down the days, hours, minutes and seconds to the live, free performance. The concert will take place at Capitol Studios on Thursday, Feb. 9 at 7 p.m. Pacific, 10 p.m. Eastern.
The stream can be viewed within Apple's iTunes desktop client, or on an HDTV using the Apple TV set-top box. Users can access the stream by choosing "iTunes Live" from the Apple TV Internet menu.
The ex-Beatle is broadcasting the performance to promote his new album, "Kisses on the Bottom," which is now available on iTunes for $9.99 (iTunes link). The album features guest appearances from Eric Clapton, Stevie Wonder and Diana Krall, and it is advertised as "an intimate exploration of the Great American Songbook" with two new songs.
The full catalog of the Beatles was long awaited on iTunes, and finally arrived on Apple's digital storefront in November of 2010. In the first two months, a total of 5 million songs and a million albums of the Beatles were sold on iTunes.
It took more than 7 years for the Beatles catalog to arrive on iTunes, thanks, in part, to a legal dispute between Apple and the band's parent company, Apple Corps. The trademark dispute was eventually settled in 2007.
Last year, Apple did a live broadcast of the iTunes Festival London 2011. Those could be viewed on iOS devices with a free application, but watching on the big-screen via Apple TV required the use of AirPlay. With this week's McCartney concert, Apple TV owners will be able to watch the show right on their HDTV without an iPhone, iPad or iPod touch.