Worker abuse petitions to be delivered Thursday at Apple's Grand Central store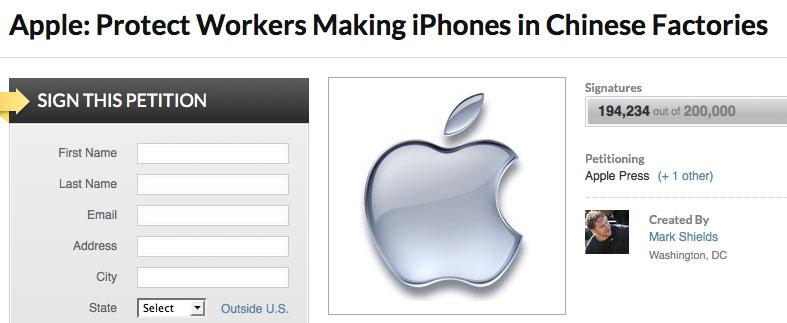 An activist group plans to hold demonstrations at Apple retail stores around the world Thursday, with a main gathering held at Apple's Grand Central Terminal location, to highlight claims of worker abuse by the iPhone maker's overseas component suppliers.
A press release was sent out to members of the media on Thursday revealing plans to deliver more than a quarter of a million signatures from campaigns on the websites Change.org and SumOfUs.org to Apple's Grand Central Terminal retail store at 10 a.m. Eastern on Thursday. The petition will reportedly be delivered by "local consumers."
The campaign was started by Mark Shields of Washington D.C., who was inspired after learning of apparent poor working conditions in the factories of Foxconn, an overseas device manufacturer who assembles Apple's products, as well as those of other technology companies like Microsoft.
"I have been a lifelong Apple customer and was shocked to learn of the abusive working conditions in many of Apple's supplier factories," Shields said in the press release. "At Foxconn, one of Apple's biggest manufacturers, there is a history of suicides, abusive working conditions, and almost no pay. These working conditions are appalling, especially for Apple."
While the Grand Central Terminal store will apparently be the focal point of Thursday's demonstrations, complete with "large iPhone posters" and printed handouts, the petitions will also reportedly be delivered to Apple retail locations around the world. The groups said petition deliveries will also take place in Washington D.C., San Francisco, London, Sydney and Bangalore.
As of Wednesday afternoon, Change.org had collected more than 194,000 signatures, while an additional 56,000 are located at SumOfUs.org. The planned demonstrations come as Apple and others have come under increased fire for their reliance on Foxconn.
On Monday, news network CNN aired a special report featuring an interview with an anonymous Foxconn worker who said she had never seen an iPad in person, even though she assembles them at a facility in Chengdu, China.
And late last month, The New York Times published a pair of stories profiling Apple's overseas manufacturing operations, examining the "human costs" that go into the iPad and other devices. An anonymous former Apple executive who spoke with the newspaper said that the company has known about labor abuses in overseas factories for years. But they said nothing has been done because "the system works for us."
Apple Chief Executive Tim Cook responded to those claims with an e-mail to employees calling the accusations "patently false and offensive." Cook noted that Apple will continue to scrutinize its supply chain and will inevitably find more issues, but said that the company will never turn a blind eye to problems. "On this you have my word," he said.