2%-3% dividend suggested as best use of Apple's $100B in cash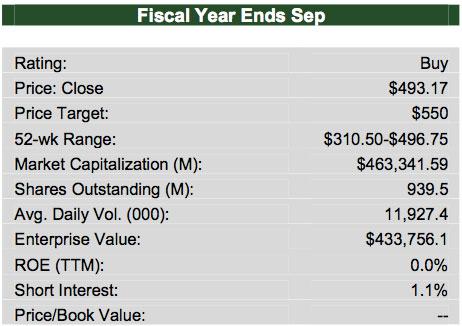 The best use of Apple's nearly $100 billion in cash and investments would be to issue shareholders a dividend yield of between 2 percent and 3 percent, a new analysis argues.
Shaw Wu with Sterne Agee said in a note to investors on Friday that he believes it makes the "most sense" for Apple to pay a dividend to investors with its growing cash hoard. He thinks a yield in the 2 percent to 3 percent range would be "very attractive" for shareholders as well as employees.
"The reason is that the company's strong cash flow should be able to fund this (which we estimate could be $75-$80 billion in the next four quarters vs. the $45.3 billion we estimate the company generated in the last four quarters)."
In the company's most recent quarterly earnings report, Apple executives indicated they are "actively discussing" what to do with $96.7 billion in cash the company had as of the previous holiday quarter. Its stockpile of cash and reserves grew $16 billion in that three-month period alone.
"We're actively discussing uses of our cash balance, and have no specifics to share," Apple Chief Financial Officer Peter Oppenheimer said. "In the meantime, we continue to be disciplined with cash, and are not letting it burn a hole in our pockets."
Wu cited two of Apple's peers, Microsoft and Intel, which are components of the Dow Jones Industrial Average and are considered to be blue chip technology companies. Microsoft pays a dividend yield of 2.6 percent, while Intel's dividend yield in 3.2 percent.
"The other positive outcome from paying a dividend is that it would bring in a new class of investors where funds that only invest in dividend paying stocks could now own AAPL shares," Wu said. "We believe this should help further stabilize its shareholder base."
The analyst's research note comes ahead of Apple's annual shareholders' meeting, set to take place on Feb. 23. He admitted that the "exact timing is tough to predict" on when or even if Apple will begin issuing dividends to investors.
Calls for a dividend have only increased as Apple's cash hoard has grown exponentially. But executives at Apple have long resisted investor pressure to dole out a dividend.
Without a dividend, AAPL stock has soared to new heights as the company continues to deliver record breaking quarters. On Thursday, Apple's market capitalization grew so much that the company is now worth more than rivals Microsoft and Google combined.
Sterne Agee has maintained its "buy" rating on AAPL stock, with a price target of $550.