With new iPad & Macs coming, $500 milestone seen as just the start for Apple stock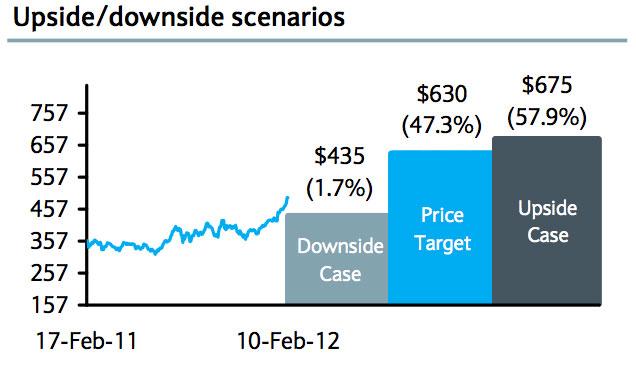 Apple's stock crossed the $500 mark for the first time ever this week, but a new analysis sees that threshold as just the beginning, with new iPad and Mac models on the horizon that could help push the price toward $630.
Analyst Ben A. Reitzes said in a note to investors on Tuesday that he sees several potential catalysts for Apple in the near future. The most imminent is a new iPad, which is expected to be unveiled at a media event on March 7.
In addition to releasing a new third-generation iPad, Reitzes believes that Apple will continue to sell the current-generation iPad 2. He sees the entry-level 16GB model remaining available for sale at a reduced price, giving Apple more traction on the lower end of the market.
But the iPad is just one of six potential catalysts seen by Reitzes, who believes AAPL stock can go to $630. As a second catalyst, he sees further innovation coming with Apple's Mac lineup, expanding upon the success of the thin-and-light MacBook Air.
The analyst believes that Apple is contemplating placing ARM-based low-power processors in some new Mac models, replacing the Intel chips that currently power its product lineup. He thinks the soonest that would happen is by the end of 2013.
Reitzes holds that prediction despite the fact that Apple Chief Executive Tim Cook indicated earlier this month that an ARM-based MacBook Air is an unlikely product. instead, he hinted that new features continually being added to the iPad will "soon satisfy" the needs of those who would be most interested in an ARM-based MacBook Air.
Beyond the Mac lineup, another catalyst seen by Reitzes is a new iPhone he expects to debut in the second half of 2012, with a late September date specifically cited as "likely."
"This iPhone should boast a new design, fast 4G LTE capabilities, a faster processor, a larger screen, a better camera, Siri and more features that could even include NFC capabilities," he said. "In short, this iPhone cycle should be the big one causing investors to envision an eventual quarter with 50 million plus units."
In addition, more iPhone distribution, particularly in China, is seen as a fourth potential catalyst for AAPL stock by Reitzes. The addition of new carriers like China Telecom and China Mobile could be a major driver of upside to iPhone units in 2012, he believes. Currently, the iPhone is only available on China Unicom.
The fifth catalyst cited was the prospect of a full-fledged television set from Apple. He sees such a device including iCloud access, as well as new TV-centric applications from the App Store. He also sees the inclusion of Siri voice control as a "groundbreaking interface for TV."
"We are still not ready to proclaim that an Apple Television will be 100% ready in 2012 as we believe that the next generation of iPhones and iPads will remain the company's focus for the near term," he said. "It appears more and more likely that the company is actively engaging partners about a potential device and content."
The sixth and final potential catalyst laid out by Reitzes was a hypothetical "return cash to shareholders" policy, which he believes would be a strong use of the nearly $100 billion in cash and investments being held by Apple. He noted that with that much cash, Apple is "running out of realistic excuses for hoarding so much," and he believes that investors are already beginning to price into AAPL stock the expectation of a dividend as soon as the upcoming shareholders' meeting on Feb. 23.
"We continue to believe Apple has the ability to easily pay a dividend with a significant yield (2-3% range) along with the ability to grow it over time," he said. "Furthermore, we believe consistent buybacks would be a better option than an accelerated buyback or a special dividend.
"We believe that Apple has recently sounded much more open in its propensity to offer a dividend and its Board likely realizes its potential value. We believe a dividend could be instated by calendar year end."
Barclays Capital has maintained its "overweight" rating for AAPL stock, which hit the $500 milestone on Monday. Its price target of $630 is unchanged.