iPad & MacBooks combine to give Apple 27% share of all mobile PC shipments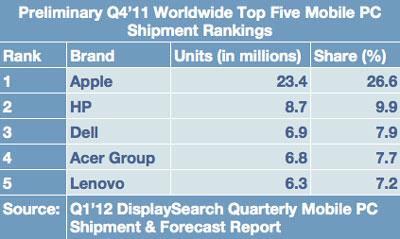 The combined total of iPad and MacBook shipments in the fourth quarter of 2011 gave Apple a whopping 26.6 percent share of the mobile PC market, nearly tripling the share held by second-place HP.
Apple's market dominance was revealed on Thursday by NPD DisplaySearch, which tracks mobile PC shipments. They found that Apple shipped 18.7 million iPads, representing nearly 80 percent of the company's mobile PC shipments during the holiday quarter.
When Apple's record iPad sales were combined with its best-ever MacBook sales, Apple achieved shipments of 23.4 million units, good for a 26.6 percent share. That was well ahead of HP's 9.9 percent share from 8.7 million units.
Coming in third was Dell, which shipped 6.9 million mobile PCs and took a 7.9 percent share. Acer was in fourth with 6.8 million shipped for 7.7 percent, while Lenovo was fifth, shipping 6.3 million units for 7.2 percent.
With iPad and portable Mac sales combined, Apple shipped 62.8 million mobile PCs in 2011, DisplaySearch said in its "Quarterly Mobile PC Shipment and Forecast Report." That's up 132 percent year over year, led mostly by the iPad, with 48.4 million total units shipped in calendar 2011.
"Mobile PC brands read the writing on the wall in the fourth quarter," said Richard Shim, senior analyst with NPD DisplaySearch. "Consumer demand for notebooks was expected to be weak following modest back-to-school results, especially with the expected launch of Windows 8 on the horizon, and increasing interest in tablet PCs. As a result, brands focused their typical holiday price cuts on tablets to boost demand."
Apple commanded 59.1 percent of all tablet shipments in the quarter, well ahead of the 16.7 percent share Amazon took in second place with its Kindle Fire. DisplaySearch tracking found that Amazon shipped 5.3 million units in the quarter, more than doubling the 2.1 million tablets shipped by Samsung.
While Apple dominated in tablets, its MacBook lineup came in fifth place among notebook PC shipments with 4.6 million units shipped and an 8.3 percent share. In first place was HP, which shipped 8.7 million laptops and took 15.5 percent of the market.
In second was Dell, which shipped 6.7 million laptops for 11.8 percent, followed closely by Acer with 6.6 million portable PCs, and Lenovo, with 6.1 million.