Dividend seen creating 'scarcity issue' for under-owned Apple stock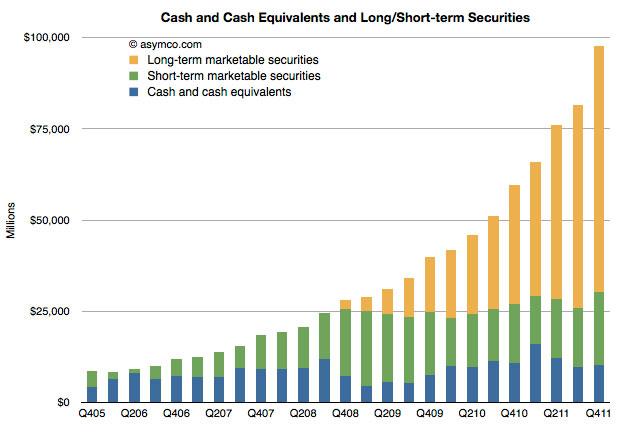 AppleInsider is supported by its audience and may earn commission as an Amazon Associate and affiliate partner on qualifying purchases. These affiliate partnerships do not influence our editorial content.
Availability of Apple shares could become an issue, boosting the company's price-to-earnings multiple later this year, if the company does decide to pay out a dividend to investors.
Analyst Mark Moskowitz with J.P. Morgan said in a note to investors on Friday that he expects that Apple will indeed pay a dividend in the near future. Given the company's current $100 billion in cash, he even thinks this could be a generous dividend of between 3 and 4 percent.
But he believes the creation of a dividend could create a "scarcity issue" for AAPL shares, as the iPhone maker's stock is currently under-owned by institutions. Even though Apple is the largest stock in the Russell 1000, 40 percent of mutual funds indexed to the Russell 1000 do not have Apple as a top 10 holding.
In addition, Moskowitz noted that 77 percent of Apple's shares are held institutionally. That's lower than the average among companies in the S&P 500, and it's also lower than the average technology sector holding.
"In other words, Apple is substantially under-owned by major investment funds, particularly those focused on income, i.e., dividend," he wrote. "If and when Apple were to announce a dividend, we expect the scarcity issue to result as investment funds move to build meaningful position."
A scarcity of AAPL shares could push the company's valuation multiples in the range of 13 to 15 times forward price-to-earnings ratio. That would address what he said have been the company's recently depressed valuation multiple of about 10 to 12 times.
A higher price-to-earnings multiple with Apple's continued earnings growth could lead to a "major appreciation trajectory" for the value of Apple stock, Moskowitz believes.
The growth trajectory of Apple's cash hoard, via Asymco.
The comments come less than a day after investors pressed Apple at its annual shareholder meeting on issuing a dividend. Calls for a cash dividend have increased since Apple's cash hoard has swelled to $100 billion.
Apple Chief Executive Tim Cook told investors that the company continues to think "very deeply" about what to do with its cash. The company has continued to make strategic investments to bolster its supply chain and also enhance its current product offerings, as it did with the $50 million purchase of App Store search engine Chomp, revealed on Thursday.
"My message there is that the board and the management are thinking about this very deeply... and we will do what we think is in the best interest of shareholders," Cook said.