New Apple Stores to open in Europe, Australia and North America

AppleInsider may earn an affiliate commission on purchases made through links on our site.
Amid record earnings and continually strong sales at its retail outlets, Apple is reportedly planning to open stores in Stockholm, Vancouver and South Perth, while rumors point to a second Seattle location.
News of yet to be announced Apple Stores, outed by online job postings and insider whispers, has been cropping up recently and Apple retail website ifoAppleStore.com now alleges that the Cupertino, Calif., company will be opening at least four new outlets in the near future.
Through job postings on its Swedish website, the Cupertino, Calif., company revealed on Tuesday that it plans to open the first Scandinavian Apple Store, according to website Allt om Mac.
Although the exact location of the retail outlet has not been disclosed, it is believed that store will be built in Stockholm's city center.
A November, 2011 report from Swedish newspaper Expressen claims (machine translation) that the Apple Store will take the place of the Audi's old offices in Hamngatan, though the rumor was unsubstantiated.
Current openings include managers, back-of-house personnel and Genius Bar positions, among others.
Lending further evidence was the registration of a new company called "Apple Retail Sweden AB," which was filed for in 2011 at the Swedish Company Registration Office in Stockholm's Stureplan square.
The store is expected to open its doors in September.
Job listing on Apple's Swedish website. | Source: Apple
Perth is reportedly getting a second Apple Store in fall, and according to insiders the outlet is planned for construction in the affluent suburb of South Perth which is a 10 minute drive from the region's existing store.
Because the town of lacks a large mall or shopping district, it is thought that Apple will build the storefront on one of the area's main thoroughfares.
The South Perth location is approximately 1,700 miles away from the next-nearest Australian Apple Store in Melbourne and will serve the city's 38,000 residents as well as surrounding areas.
Based on current construction plans, the store could open by September.
Job listings on Apple's website point to openings at a new store in the Coquitlam Centre shopping mall in Vancouver.
The site will be the fifth Apple Store for British Columbia's largest city, and will join the main central location that is flanked by three others in surrounding suburbs.
Apple's newest Vancouver outlet will also be the company's easternmost and will service customers from a number of commuter suburbs.
Judging by the posting date of the job listing, the store is likely to open in September.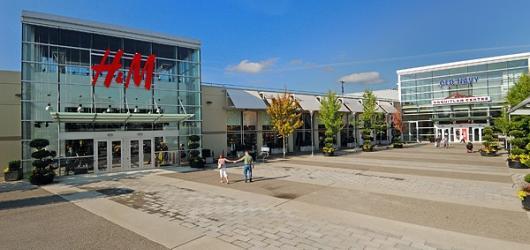 Coquitlam Centre exterior view. | Source: CoquitlamCenter.com
New information from "tipsters" is rekindling a rumor that Apple is supposedly seeking out a second Seattle location that will complement its University Village storefront.
The Broadacres Building is now seen as a prime locale for an Apple Store as Nordstrom Rack is planning on relocating, which will leave a three-story space vacant.
Sources claim that Apple's real estate team has showed in interest about leasing part or all of the 43,000 square-foot space that takes up the basement, first and second levels of the building, though a deal has yet to materialize.
Broadacres is set in downtown Seattle near Pike Place Market and is approximately five miles south of the University Village Apple Store.