Apple will continue to sell 16GB Wi-Fi iPad 2 for $399, 3G model for $529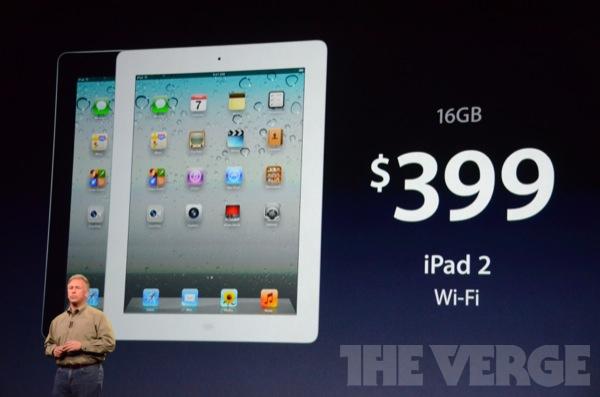 AppleInsider is supported by its audience and may earn commission as an Amazon Associate and affiliate partner on qualifying purchases. These affiliate partnerships do not influence our editorial content.
In addition to the new third-generation iPad available starting at $499, Apple will continue to sell the iPad 2 in a 16-gigabyte Wi-Fi-only model for $100 less, at $399, while the 3G-capable model is now $529.
In introducing the newly priced iPad 2, Apple's senior vice president of Worldwide Product Marketing, Phil Schiller, noted that the lower entry cost would allow more schools, students and general users to buy the touchscreen tablet.
First released in 2011, the iPad 2 will continue to be known by that name. But the new third-generation iPad, featuring a Retina Display, faster processor and LTE 4G connectivity, is simply known as "the new iPad."
Leading up to Wednesday's event, rumors suggested Apple would continue to sell the iPad 2 at a discounted price, much like Apple has previously done with its iPhone lineup. But it was expected that the iPad 2 would have a smaller, 8-gigabyte capacity, so the 16-gigabyte size of the $399 iPad 2 is somewhat of a surprise.
Apple will also continue to sell the lowest-capacity 3G-capable iPad 2. It has also seen its price reduced by $100, making it $529.
The new, expanded iPad lineup will start with the iPad 2 at $399, with the 16-gigabyte third-generation iPad starting at $499. The third-generation iPad maxes out at 64 gigabytes for $699, while 4G LTE models carry a $130 premium over the Wi-Fi-only models.