Alleged Best Buy inventory leak shows mysterious Sprint iPad listings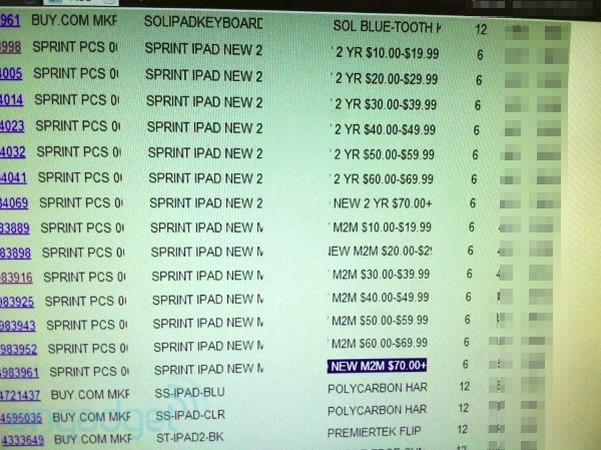 AppleInsider is supported by its audience and may earn commission as an Amazon Associate and affiliate partner on qualifying purchases. These affiliate partnerships do not influence our editorial content.
Purported leaked images of Best Buy's internal inventory system contain mysterious references to a Sprint iPad with what seem to be two-year contract options.
Sprint was noticeably absent from this week's third-generation iPad announcement, which highlighted 4G LTE providers AT&T and Verizon. The wireless operator later issued a statement saying that it had "nothing to announce at this time" regarding the arrival of the iPad on its network.
However, a new leak from Engadget may hint that preparations are being made for the iPad to become available on Sprint. A tipster sent in photos of Best Buy's inventory system with 14 separate entries for a "Sprint iPad." The listings appeared to account for different two-year contract data plans and M2M (machine-to-machine) plans.
In a Frequently Asked Questions page on its M2M site, Sprint currently lists laptops and netbooks and M2M devices such as the Amazon Kindle and Kindle DX as "embedded devices." The iPad could potentially be classified by the carrier as one such device.
Sprint only recently began offering the iPhone. Apple announced Sprint as a new carrier partner last October with the unveiling of the iPhone 4S.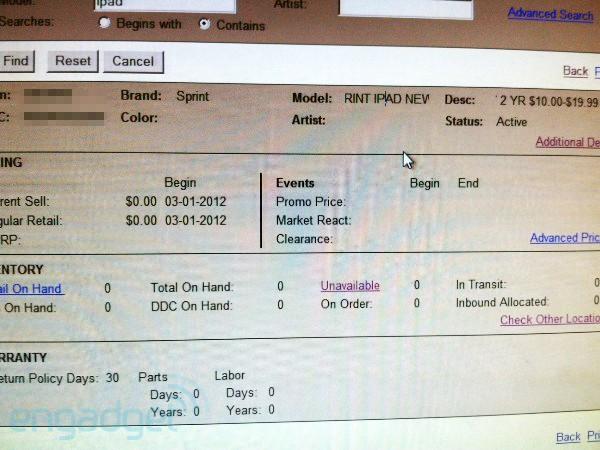 Of course, even assuming that the leaked photos are accurate, it should be noted that they hardly serve as confirmation of either Sprint's, or Apple's, plans. One possibility, however, is that the two companies are waiting for Sprint to get its LTE network off the ground before it begins selling the third-generation iPad. The carrier announced at the start of this year that it is planning on launching LTE first in Atlanta, Dallas, Houston, San Antonio and several other smaller markets by mid-2012.
Rivals Verizon and AT&T already have a significant head start on Sprint in the LTE department. Verizon launched its LTE network first and now claims to cover 200 million customers with it. AT&T said it has reached 74 million people with its own LTE network as of the end of last year.
Apple has its work cut out for it in supporting the wide range of LTE frequencies internationally as well. The company is advertising Canadian carriers Rogers, Bell and Telus as its international partners, but the new iPad Wi-Fi + 4G model does not appear to be compatible with European LTE networks.