AT&T offers settlement to iPhone user who sued over 3G throttling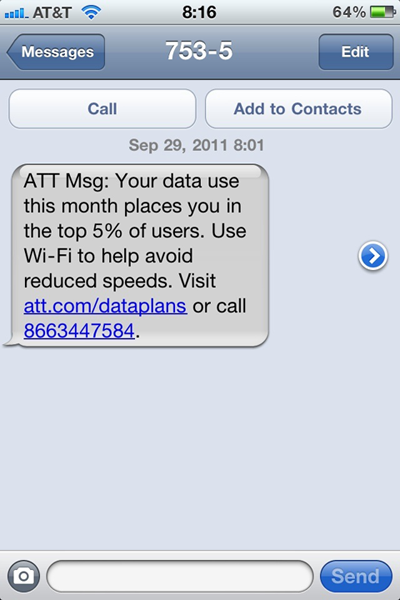 AT&T has offered a settlement to a California resident who successfully sued the carrier in small claims court for throttling his unlimited 3G data plan.
iPhone user Matthew Spaccarelli won an $850 award in a California court last month. He sued AT&T after discovering that the speed of his grandfathered-in "unlimited" 3G service was being reduced after just 1.5GB to 2GB of data usage, despite the fact that the company offers a 3GB for the same price.
Spaccarelli had originally asked the court to award him $10,000, but the judge granted him $85 for each of the 10 months left on his contract.
Though AT&T has said it plans to appeal the decision, the company has reached out to Spaccarelli to discuss a settlement, the Associated Press reports. The carrier also undertook a routine legal move of asking him to refrain from mentioning that it had offered to start settlement talks.
However, Spaccarelli says he is not interested in a settlement and has posted AT&T's legal documents online, encouraging consumers in similar situations as him to follow his lead.
AT&T has also threatened that it could shut off Spaccarelli's service because he has admitted to wirelessly tethering devices to his iPhone in violation of AT&T's terms of service. For his part, Spaccarelli says he doesn't care if they do because winning the case was what was important to him.
The carrier began throttling the top five percent of customers based on data usage last October after warning in July that the policy would go into effect.
A week after the small claims court decision was handed down, AT&T implemented a new throttling policy. The company said it would begin reducing download speeds of unlimited 3G subscribers after their usage exceeds 3GB, while 4G LTE subscribers would be throttled after 5GB.
Rival carrier Verizon also has a policy to limit downloads of its most-active customers, though the company calls it "network optimization" rather than throttling. Those limitations, however, only take place when a users is on a "congested cell site."