iTunes 10.6 parental controls suggest iTunes Store coming to Indonesia, Thailand, more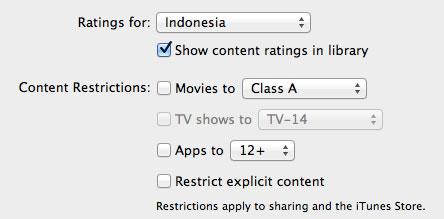 AppleInsider is supported by its audience and may earn commission as an Amazon Associate and affiliate partner on qualifying purchases. These affiliate partnerships do not influence our editorial content.
The list of countries available under "Parental Preferences" in iTunes has been greatly expanded in version 10.6, suggesting music and movies on the iTunes Store may soon be coming to a number of countries in Asia.
One AppleInsider reader noted on Tuesday that the newly released iTunes 10.6 features a number of new countries under the Parental Preferences pane. They said the new countries include, but are not limited to, Indonesia, Thailand, Singapore, Taiwan, Malaysia and South Korea.
With the new settings, users can restrict the viewing of content based on localized parental controls and age restrictions. The new preferences allow content restrictions related to movies, TV shows, applications and explicit music or podcasts.
The addition of parental controls is noteworthy because Apple has yet to expand the iTunes Store to those countries. In many countries around the world, iTunes only offers content through the iOS App Store, as well as podcasts and iTunes U.
The expansion of parental controls tailored specifically for those regions could be a sign that Apple is nearing the launch of iTunes storefronts in major countries like Indonesia, continuing Apple's international expansion of its digital storefront.
As recently as last December, Apple debuted iTunes music and movie stores in 16 countries across Latin America. And last September the iTunes Store expanded to 12 new countries in Europe, making it available in all European Union nations, including Poland, Hungary and the Czech Republic.
Of course, the new parental controls in iTunes 10.6 may just be for restricting mature App Store content or explicit podcasts. But the update has added movie age ratings that are specific to each country, and TV show ratings remain greyed out, suggesting Apple could be gearing up to sell content to a number of new countries.
The new parental controls are another addition to iTunes that Apple quietly made with version 10.6. AppleInsider also reported on Monday that the updated software also added the ability for users to select higher quality audio conversion bitrates of 192kbps and 256kbps when syncing to an iPhone, iPod or iPad.
iTunes 10.6 launched last week, granting users the ability to download 1080p video. It also addressed a number of issues related to the iTunes Match service, including improved song matching, and album artwork handling, downloading and displaying.