New iPads begin arriving at Best Buy as another hands-on surfaces from Hong Kong [u]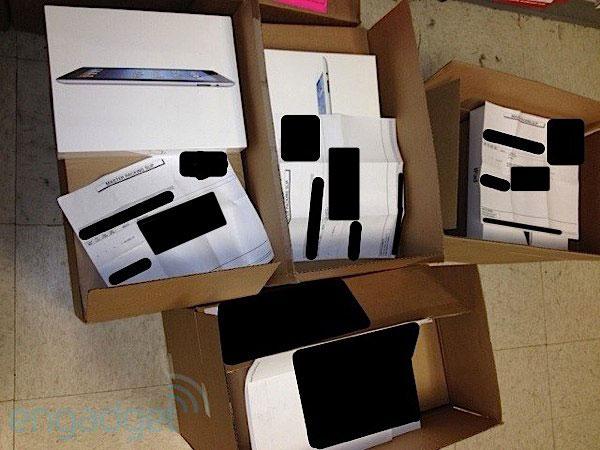 Ahead of Friday's official launch of the new iPad, Best Buy stores have begun receiving inventory, as a new photo shows units stockpiled one of the retailer's back rooms. In addition, another hands-on with the new device has surfaced from Hong Kong.
New iPads pictured at Best Buy
Boxes of new iPad units at a Best Buy store awaiting Friday's launch can be seen in a picture sent to Engadget on Wednesday. The electronics retailer will be one of a number of stores to offer Apple's third-generation tablet on day one.
Customers who weren't among the first to order an iPad direct from Apple last week will likely have to camp out at a Best Buy, Apple Store or other partnering retail location if they want to get their hands on an iPad 3 this Friday, as preorders through Apple's online store sold out last week.
In addition to Apple stores and Best Buy, the new iPad will also be available at Radio Shack, Sam's Club, Target and Walmart, while 4G LTE versions will be available at AT&T and Verizon stores. It will go on sale at 8 a.m. local time.
Update: A Target employee, who declined to be named, has confirmed that the store has also received its first iPad shipment ahead of Friday's launch. According to the source, the tablets are arriving in cases containing five iPads and stores will be allotted between 5 to 120 units with the average getting between 20-30 units. Interestingly, the shipments are said to be coming straight from Apple and not the company's distribution center.
The unnamed source notes that the iPad will go on sale on Friday morning, with signage scheduled to go up Thursday night. Finally, some Target locations may institute a coupon system to control the expectedly large number of line-waiters.
If the rollout is akin to last year's iPad 2 debut, it will likely take several months before Target stores begin carrying a steady supply of the newest iPad.
More hands-on, sample pictures from new iPad
Another 4G LTE-capable iPad has been obtained in Hong Kong, where the magazine PCM shared hands-on impressions with the new hardware. It also offered a number of photos taken with the device, and a sample of its 1080p video recording.
The new hands-on from Hong Kong follows an unboxing of the third-generation iPad that came from Vietnam on Tuesday. Sample photos taken with the new iPad also surfaced and showed the new lens in the latest iPad is a dramatic improvement over last year's iPad 2.