FaceTime on Apple's new iPad not allowed over LTE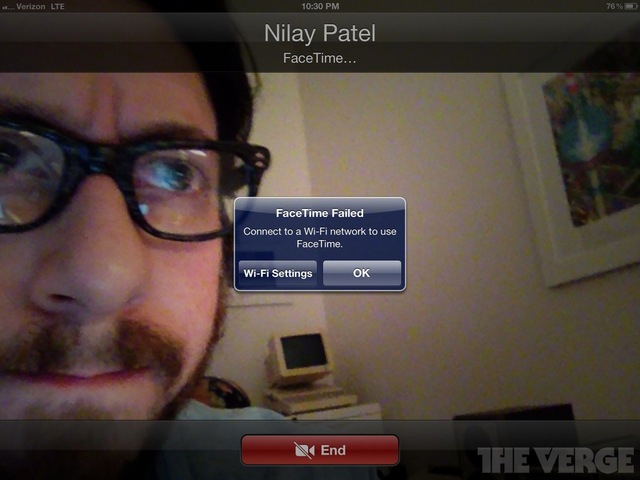 A new report has confirmed that Apple's third-generation iPad will not be allowed to make FaceTime calls on an LTE network.
The Verge performed some testing late Wednesday and discovered that the new iPad will need to connect to a Wi-Fi network to use FaceTime. Though the news hardly comes as a surprise, since Apple's 3G-enabled iOS devices are unable to use FaceTime over 3G, it does put to rest questions about whether the added download speeds from LTE might open up the feature for 4G cellular networks.
Report author Dieter Bohn found the LTE FaceTime restriction to be "doubly frustrating" because Verion LTE iPads can generate Personal Hotspot Wi-Fi networks that would presumably allow other iOS devices to make FaceTime calls via the same LTE connection.
Late Apple co-founder Steve Jobs unveiled FaceTime alongside the iPhone 4 in 2010. The video calling service launched as Wi-Fi only, but Jobs promised that Apple would "work a little bit with the cellular providers" in hopes of bringing it to mobile networks.
Early reviews of the iPad show that LTE service on the device is significantly faster than previous-generation 3G networking. All Things D journalist Walt Mossberg said he averaged download speeds of 17 megabits per second on Verizon, while a colleague averaged 12 mbps on AT&T's network. The New York Times' David Pogue tested the iPad in three cities and got speeds ranging from 6 to 29 mbps.
The new iPad goes on sale at 8 a.m. local time in 10 countries on Friday. The device will be available in the U.S., Australia, Canada, France, Germany, Hong Kong, Japan, Singapore, Switzerland and the U.K, as well as Puerto Rico and the U.S. Virgin Islands.