Apple's cash options include ongoing or special dividends, share buyback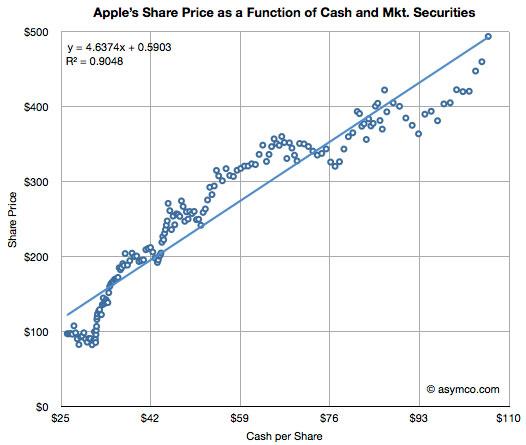 Apple's most likely use for its $100 billion cash balance is seen as an ongoing dividend, though other options include a special dividend or share buyback.
Analyst Mike Abramsky with RBC Capital Markets believes that Apple will offer a $10-per-share ongoing annual dividend, which would be a slight premium over the company's peers. That would amount to $9.4 billion, or 25 percent of its estimated fiscal 2012 free cash flow estimate for the company.
In comparison, Microsoft, IBM, Oracle, Intel, Qualcomm, Cisco and Hewlett-Packard all pay out dividends at 21 percent of free cash flow. In addition, a $10-per-share annual dividend would be a 1.7 percent yield rate, comparable with other tech companies that are around 1.8 percent.
While Abramsky sees the ongoing cash dividend as the most likely option, he said another possible scenario is that Apple decides to dole out a special dividend to investors. He estimates that Apple could declare a $60-per-share one-time dividend, which would be comparable to Microsoft's 2004 special dividend in which it used 58 percent of its cash.
If Apple does decide to do a special dividend, he expects that AAPL shares will drop by the value of the one-time dividend after it is paid to investors.
A third option for Apple is a share buyback. If the company were to use 25 percent of its free cash flow, he estimates Apple could repurchase 16 million shares annually.
Chart via Horace Dediu of Asymco.
"An ongoing dividend and/or special dividend or share buyback signals a new phase for Apple, one of less rapid, but still above-peer growth and margins," Abramsky wrote. "Distributing some of its large cash balance back to shareholders addresses and overhanging issue which has weighed on valuation."
Apple will hold a conference call with Chief Executive Tim Cook and Chief Financial Officer Peter Oppenheimer this morning at 9 a.m. Eastern, 6 a.m. Pacific to discuss what it plans to do with its $100 billion cash balance. AppleInsider will have full, live coverage.