Estimated shipping times for Apple's new iPad improve to 1-2 weeks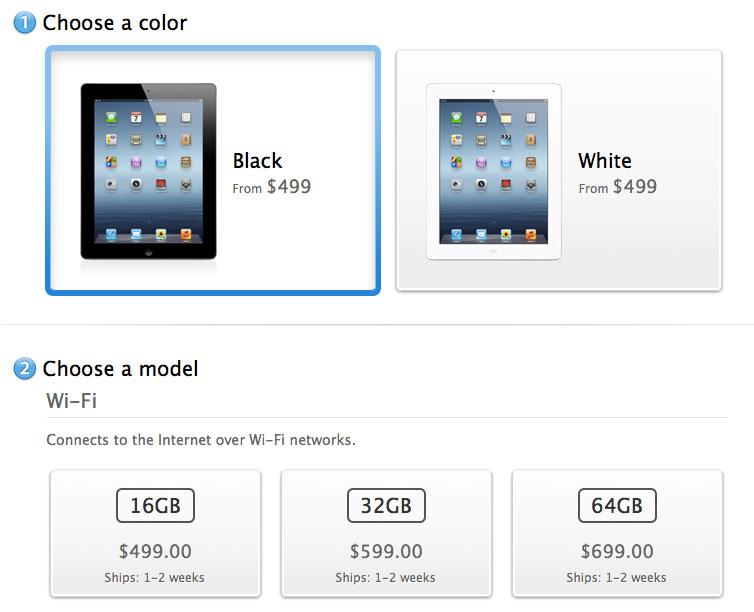 In the face of strong demand that led to a record launch for the new iPad, Apple has begun to improve supply for its touchscreen tablet, as new orders from its online store are now advertised to ship in one to two weeks.
As of Tuesday, all models of the new iPad — capacities, colors and carriers — are advertised to ship in one to two weeks from Apple's U.S. store. That's an improvement from Monday, when shipping times were listed as two to three weeks.
Shipping times first slipped to two to three weeks a week ago, just five days before the new iPad was set to go on sale. And preorders of the launch-day supply of iPads sold out less than two days after the new iPad was announced.
Availability of the previous-generation 16-gigabyte iPad 2 remains with an estimated shipping time of one to three business days with the exception of the Verizon 3G model, which is advertised as "in stock" for more immediate shipment.
Improved shipping times for the new iPad are a sign that Apple has been better prepared to meet demand than last year with the launch of the iPad 2. For that launch, Apple was unable to keep up with overwhelming demand, and estimated shipping times at one point slipped to as long as five weeks.
Apple has managed to improve shipping times for the new iPad even as the company faces record demand for its third-generation tablet. It was announced on Monday that Apple sold more than 3 million of the new iPad over the device's three-day launch weekend. Launch sales of the iPad 2 weren't even announced in 2011 as Apple struggled to meet demand.
Improved availability in the U.S. is also a good sign abroad, as Apple is gearing up to launch the new iPad in 24 new countries on this Friday, March 23. Customers will be able to purchase the new iPad at 8 a.m. local time in Austria, Belgium, Bulgaria, the Czech Republic, Denmark, Finland, Greece, Hungary, Iceland, Ireland, Italy, Liechtenstein, Luxembourg, Macau, Mexico, The Netherlands, New Zealand, Norway, Poland, Portugal, Romania, Slovakia, Slovenia, Spain and Sweden.
Those countries join the U.S. and nine others that kicked off iPad sales last week. In addition to America, the new iPad debuted in Australia, Canada, France, Germany, Hong Kong, Japan, Puerto Rico, Singapore, Switzerland, the U.K. and the US Virgin Islands last Friday.