Apple and Samsung 'rule the roost' with 90% of mobile industry's profits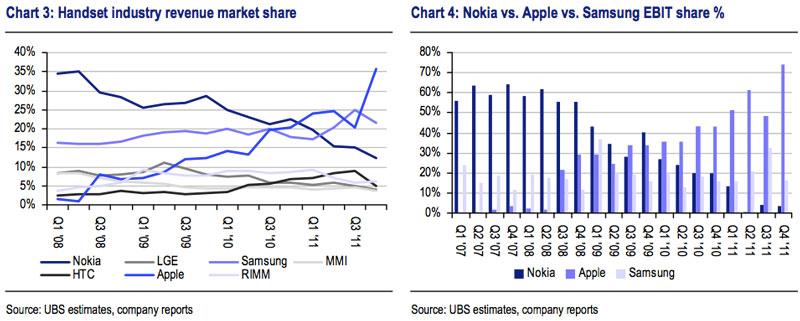 Apple and Samsung are expected to collectively earn 90 percent of profits in the mobile handset industry this year, with no formidable challengers in sight.
UBS Investment Research published a note on Thursday in which it estimated that Apple and Samsung will enjoy 90 percent of the mobile handset industry's earnings before interest in taxes. In addition, the two companies are said to currently account for more than 50 percent of total industry revenues.
Samsung and Apple's share of profits are expected to grow as Samsung's margins are projected to improve to the high teens. Apple's margins, meanwhile, lead the industry, allowing it to take 75 percent of mobile phone profits with just 9 percent of units sold.
UBS has increased its estimated iPhone sales for Apple's fiscal year 2013 to 156.5 million, up from its prior estimate of 149.5 million. The firm expects that Apple is preparing to build a record number of sixth-generation iPhones for its biggest product launch ever later this year.
"Apple has been consistently accelerating the pace of each successive iPhone launch, expanding both country and carrier rollouts within a shorter timeframe," analyst Maynard Um wrote. "For the iPhone 4S Apple launched in 29 countries within 2 weeks of the initial launch, the iPhone 4 was launched in 2 countries within 6 weeks of launch, and the iPhone 3GS was launched in 14 countries within 1 week of its initial launch."
UBS expects the next iPhone will be a completely redesigned model that will drive a stronger-than-average upgrade cycle for existing iPhone users. The updated hardware is also expected to encourage other smartphone and non-smartphone users to switch to Apple.
The only other handset manufacturers outside of Apple and Samsung that UBS sees making a potential splash in 2012 are Huawei and HTC. As for Nokia, the Finnish handset maker is projected to sell only 2.9 million of its Windows Phone-based Lumia smartphones in the first quarter of the year.