iPhone closes in on Android in growing U.S. smartphone market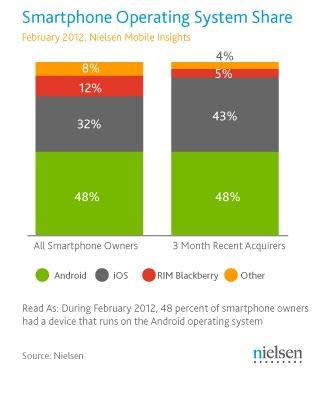 AppleInsider may earn an affiliate commission on purchases made through links on our site.
As of February, smartphone users accounted for nearly half of all wireless subscribers in the U.S., and Apple's iPhone adoption rate saw growth while Android handset activations slipped.
According to new data from Nielsen published on Thursday, sales of Apple's iPhone accounted for 43 percent of all new smartphone purchases over the past three months, a 6 percent increase from the period ending in December, while Android's share fell nearly 4 percent to cover 48 percent of activations.
Riding on strong iPhone 4S sales, Apple's iOS is slowly closing the gap with Google's Android OS and now accounts for 32 percent of all smartphones. The iPhone isn't eating into Android's market, however, and is instead picking up deserters from RIM's sinking BlackBerry platform.
Android remained top dog and took 48 percent of the smartphone market, while RIM accounted for a 12 percent share. Other devices like Windows Phone and Symbian filled out the list with an 8 percent stake.
The smartphone market as a whole took 49.7 percent of all mobile subscribers, a 38 percent increase form the same time last year when feature phones dominated the landscape.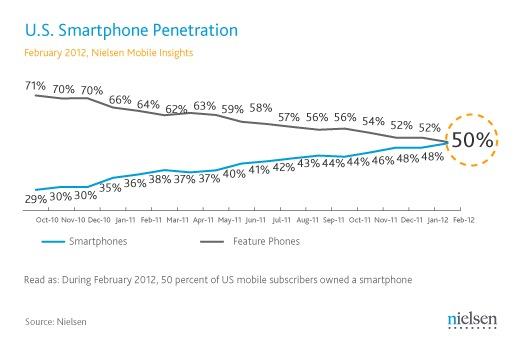 During the three months ending in February, more than two-thirds of those who purchased a new mobile device opted for a smartphone.