Foxconn workers question why hours are being cut after FLA review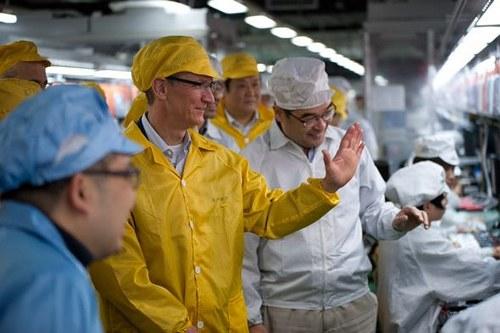 AppleInsider is supported by its audience and may earn commission as an Amazon Associate and affiliate partner on qualifying purchases. These affiliate partnerships do not influence our editorial content.
Workers at Apple supplier Foxconn are reportedly worried after it has been announced that their hours will be cut following an audit of its facilities.
Twenty-three-year-old Wu Jun is used to working long overtime hours to earn the bulk of her income. But after Foxconn announced it will cut hours for its employees, she and other employees expressed concern to Reuters that they won't make enough money to support their families.
Foxconn announced on Thursday that it would reduce employee working hours to 49 per week, including overtime. That change is one of a number made in response to violations found by the Fair Labor Association, which audited Foxconn's facilities at the request of Apple.
FLA issued its report on Thursday, revealing that it discovered excess working times and various code violations at three Foxconn factories that were investigated. The audit reviewed 3,000 staff hours and more than 35,000 workers.
But with the changes implemented by Foxconn, employees are now concerned that their wages will also be cut. "If we work less overtime, it would mean less money," said Wu, an employee from China's Hunan province.
Another worker from Hunan, 25-year-old Chen Yamei, said she and others are there to "work and not to play." She has been an employee at Foxconn for four years, and earns about $634 per month.
"We have just been told that we can only work a maximum of 36 hours a month of overtime," she said. "I tell you, a lot of us are unhappy with this. We think that 60 hours of overtime a month would be reasonable and that 36 hours would be too little."
Apple CEO Tim Cook touring an iPhone production line at a Foxconn plant in Zhengzhou, China, via MIC Gadget.
The FLA audit came about because Apple opted to join the association in January, making it the first technology company to do so. Apple's membership came as the company found itself under fire for its alignment with Foxconn.
Apple also conducts its own audits of its overseas partners. Last year, a total of 229 audits were conducted, representing an 80 percent increase over 2010.
Apple Chief Executive Tim Cook himself even visited a Foxconn iPhone plant during his recent trip to China. Cook stopped by the production line at a Foxconn plant in Zhengzhou, where 120,000 people are employed.