Apple TV "single core" A5 actually has two cores, one is off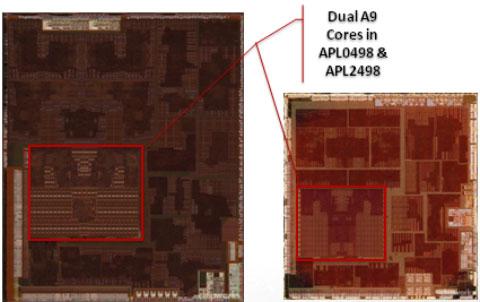 AppleInsider is supported by its audience and may earn commission as an Amazon Associate and affiliate partner on qualifying purchases. These affiliate partnerships do not influence our editorial content.
An investigation into the custom A5 chip used in Apple TV has found that the new Application Processor uses both a smaller, more efficient 32nm die process and actually incorporates two cores, one of which is simply turned off.
According to a report by Chipworks, the custom A5 "APL2498" used in the third generation, 1080p Apple TV has improved upon the 45nm LP CMOS process of the previous A5 "APL0498," used in both iPad 2 and iPhone 4S last year.
The smaller die size makes the Apple TV's A5 almost 41 percent smaller than the original part, allowing more chips to be created from a single silicon wafer. That makes producing the part cheaper, and also helps improve performance and lower power consumption (as its components are shrunken down and therefore closer to each other).
In addition to being smaller, Chipworks found that the new version of the A5 actually incorporates two cores. Apple only advertises Apple TV as having a single core chip, so the investigation notes that "either Apple is only utilizing one core or they are binning parts."
By turning off one core, Apple could reduce the power consumption of a device. However, Apple TV lacks the power constraints of battery-powered mobile devices, making it more likely that the company simply developed a smaller, cheaper version of the A5 and is using the dual core rejects to power Apple TV, where one core is sufficient.
Chipworks explains that such "parts binning is a common process in semiconductors where devices are segregated (binned) based on meeting a subset of the overall requirements, in this case they could disable the 'bad' core, this increases the usable die per wafer, lowering the cost."
Chip makers routinely create CPUs and RAM components and test them for the highest speed they can consistently operate at, selling the fastest parts for more and the slower components for less, rated to work at a slower clock speed.
This strategy would allow Apple to use its poorest performing new A5 chips in the $99 Apple TV, while creating a new supply of fully functional 32nm A5 chips that are faster, smaller and cheaper than last year's 45nm batch.
Chipworks notes that these chips could either power a new generation of iPhones (or other devices) or help to reduce the cost of existing products such as the iPhone 4S or iPad 2. The latest third generation iPad uses a custom chip Apple calls A5X, which incorporates the same dual ARM cores but delivers quad-core GPUs to drive its Retina Display, with four times the pixels.