Macs again outperform the market as Apple takes 10.6% of US PC shipments [u]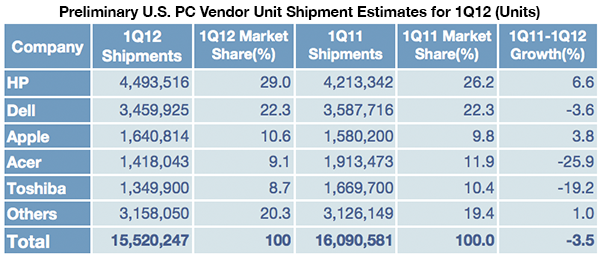 AppleInsider is supported by its audience and may earn commission as an Amazon Associate and affiliate partner on qualifying purchases. These affiliate partnerships do not influence our editorial content.
Apple saw its domestic Mac shipments grow to 10.6 percent of the market in the first quarter of 2012, as the company once again grew while the rest of the PC market saw its shipments slide. [Updated with additional data from IDC]
Gartner on Wednesday announced its quarterly PC shipments, revealing that Apple maintained its place as the No. 3 PC seller in the U.S. Apple's year-over-year shipments grew a slower-than average 3.8 percent, but that was still enough to outpace the rest of the market, which lost an average 3.5 percent.
The market leader for the quarter was HP, which grew its shipments by 6.6 percent year over year. HP took a 29 percent share of the U.S. market on shipments of 4.5 million PCs.
In second was Dell, which shipped 3.5 million PCs, good for 22.3 percent of the market. Dell saw its shipments slide 3.6 percent from the same period in 2011.
Apple remained in third place, as it was last quarter, but with a slightly smaller share of the market. At the end of 2011, Apple took 11.6 percent of PC shipments in the U.S., but the Mac maker was off by a percentage point to start 2012. Still, it grew its share from the first quarter of 2011, when Apple represented 9.8 percent of shipments.
Apple shipped an estimated 1.6 million Macs in the first quarter of 2012, according to Gartner, representing 3.8 percent growth from the same period in 2011. That put it ahead of fourth-place Acer, which shipped an estimated 1.4 million PCs over the three-month span, giving it a 9.1 percent share. Its shipments slid 25.9 percent year over year.
Apple, as usual, didn't crack the top five PC makers worldwide. In terms of global shipments, HP was the leader with an estimated 15.3 million PCs shipped, taking a 17.2 percent share.
Lenovo saw the greatest year-over-year gains, with its 28.1 percent surge pushing it to second place on shipments of 11.6 million PCs, good for a 13.1 percent share. In third was dell, which slid 1.6 percent to 9.8 million shipped PCs, giving it 11 percent.
In fourth worldwide was Acer, which dropped 9.2 percent to 9.7 million shipments. It took a 10.9 percent share. And finally in fifth was Asus, which grew 21.3 percent and shipped 5.3 million units, for a market share of 6 percent.
In all, an estimated 89 million PCs were shipped in the first quarter of calendar 2012. Total global shipments were said by Gartner to be up 1.9 percent year over year.
"The results were mixed depending on the region, as we saw the EMEA region perform better than expected with PC shipments growing 6.7 percent in the first quarter of 2012, while Asia/Pacific performed below expectations, in part because of slow growth in India and China," said Mikako Kitagawa, principal analyst at Gartner.
"While the PC industry has high expectations for strong growth in the emerging markets, the slowdown of these countries in this quarter provides a cautionary notice to vendors that the future growth for the PC industry cannot heavily depend on the emerging markets even though PC penetration in these regions is low."
Also on Wednesday, numbers from IDC painted a slightly different picture as it saw healthier worldwide PC shipment growth and a small uptick for the U.S. market.
IDC also found third-place Apple's share of the domestic market hovering at around 10 percent, growing 5.1 percent year-to-year.
Leading the industry was HP, shipping 4.6 million units to end the first quarter with a 28 percent share of the market, up 6.6 percent from the period one year ago. Dell took second, with the IDC results showing the same year-on-year 3.6 percent decline as Gartner's findings.
Grossly differing from Gartner's data are IDC's picks for fourth and fifth place. Gartner estimates put Acer group in fourth after showing a precipitous decline of 25.9 percent, while IDC sees the company in fifth place after dropping only 3.8 percent year-to-year. Both firms agree that Toshiba was down roughly 19 percent from the year ago period, putting the Japanese electronics company in fourth place according to IDC.
Perhaps the most significant difference between the Gartner and IDC numbers are the amount of units sold by makers in the "other" category, with IDC seeing nearly one million more shipments than Gartner. This amounts to a 6.9 percent gap between the two research firms and likely accounts in part for IDC's estimated one percent growth in overall domestic shipments.
"Slow growth in the U.S. shows that despite interesting and new form factors like all-in-one (AIO) desktop PCs and Ultrabook–class notebook PCs, the market remains conservative and focused on replacements," said IDC Vice President of Worldwide Consumer Device Trackers Loren Loverde. "We expect vendors, retailers and channel partners to be working very hard this year to focus their product lines and their general operations as they prepare for the year-end holiday season, because that alone will likely determine if there is any growth at all in the U.S. market in 2012."
Over 87 million units were shipped worldwide as the market saw a slight increase of 2.3 percent from last year. IDC partly blames the slow growth on the availability of hard drives, which were constrained in the first quarter due to flooding in Thailand. The firm is looking ahead to stronger sales as HDD supply stabilizes and Microsoft launches its next generation Windows 8 operating system.
""Nevertheless, history has shown that periods of slower growth are followed by recovery as improving technologies make replacements as well as new purchases increasingly compelling," Loverde said. "As a result, we expect PC shipments to pick up significantly by the fourth quarter and beyond as HDD supply and pricing are normalized, Windows 8 is launched, and replacements pick up."