New Apple TV, iPad 2 may be testbeds for Samsung's 32nm chip-making process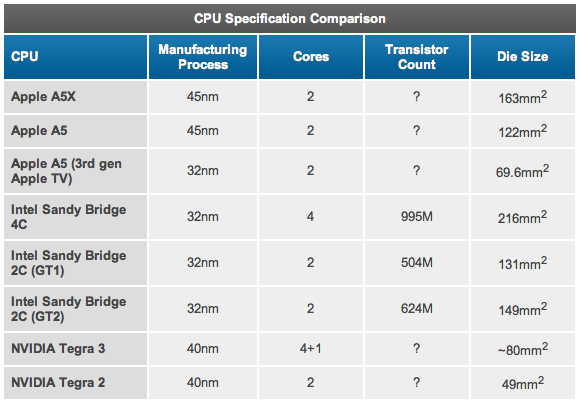 AppleInsider is supported by its audience and may earn commission as an Amazon Associate and affiliate partner on qualifying purchases. These affiliate partnerships do not influence our editorial content.
The 1080p-streaming Apple TV and $399 iPad 2 use a new variant of Apple's A5 processor that may be a testbed for Samsung's 32nm High-K + Metal Gate process, which could find its way into future A-series chips powering devices like a next-generation iPhone.
Extrapolating from Chipworks' Wednesday report on Apple's custom A5 chip, it can be guessed that the iPhone maker is testing out Samsung's 32nm HK+MG process to flesh out any bugs before fully transferring to the technology, according to AnandTech.
Apple will be moving from the 45nm LP CMOS process used in both the iPhone 4S and last year's iPad 2 to a newer, more efficient 32nm node. In order to make the leap, testing is usually done with non-complex, small nodes like those found in the new Apple TV.
Because the number of Apple TVs sold is much less either the iPhone or the iPad, it is an ideal platform on which to test small-run batches using the 32nm process. If problems occur, the new chips can always be swapped out for current iterations built on the 45nm process.
Future Apple products using the new Samsung node should be more efficient, meaning that complex processes can be executed without sacrificing battery life. It remains to be seen whether the next-generation iPhone will sport a processor based on the A5 architecture or if it will feature a design complex enough to denote the A6 moniker. For example, the design of the silicon in the new iPad, an A5X chip which is basically a 45nm A5 processor augmented with four graphics cores, was apparently not significant enough to warrant a name change.