Apple rolls out new security measures for iTunes, App Store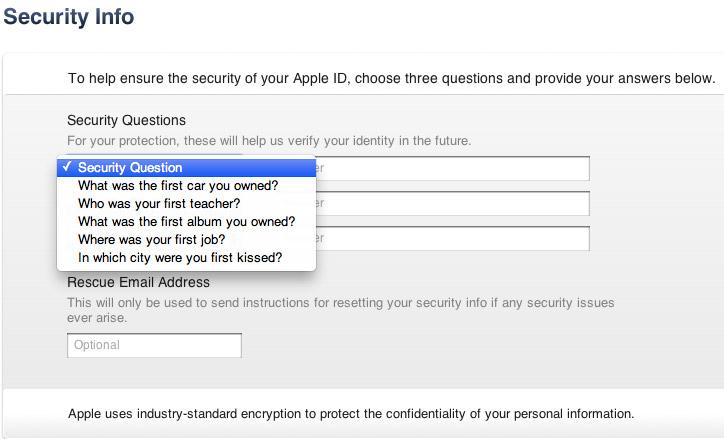 Apple has reportedly started asking iTunes and App Store customers to fill out three security questions that will be associated with their accounts in what is presumably a move to reduce fallout in the event of a breach.
The newly-instituted system asks customers to choose and answer three specific security questions that can be used later to verify their identity if their account were to be compromised, according to a thread on Apple's Support Forums.
Interestingly, the rollout is not iTunes-wide as only a select number of users are being asked to fill out the online form. It is speculated that those accounts that had problems in the past will be the first to get the new feature and will be followed by all customers in the coming weeks.
The users who do receive the notice are seeing the questions appear when they try to download any content through iTunes, the App Store or the iBookstore. All devices are affected by the change, and customers can expect to see the form to show up wherever they use iTunes, including iDevices.
Once asked to enter their iTunes password, users are taken to a page where they are asked to select three questions like "Who was your first teacher." This type of security question and answer system has been used for years by financial institutions and online entities that store sensitive personal information.
Users are asked to select three security questions when downloading content from iTunes. | Source: The Mac Observer
As with existing security formats across the web, Apple will be instituting a "Rescue Email Address" in case it needs to change a user's password. Reports are conflicting as to whether the company is requiring this information immediately or if it is merely making the option available to those who want an added layer of security.