Apple Stores perform 17 times better than US retail average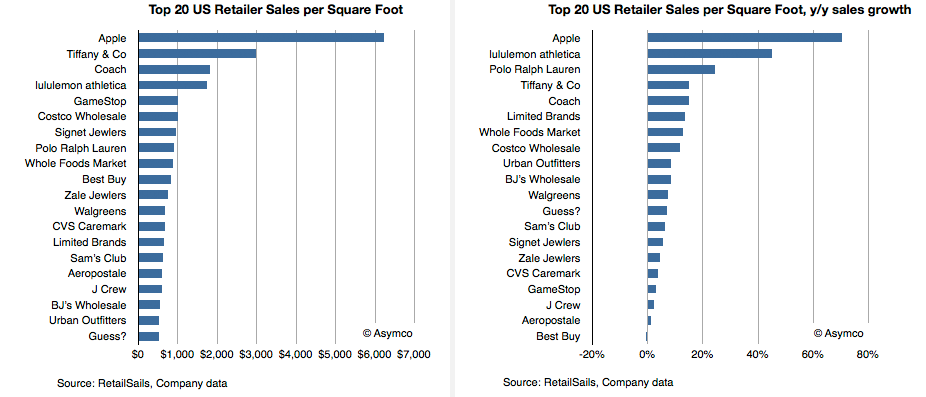 New sales data from brick-and-mortar retail outlets reveals that Apple Stores see some 17 times more sales than the national average, and lead all U.S. retail chains in sales per square foot.
Market analytics firm Asymco, drawing from raw data provided by RetailSails, notes that Apple Stores worldwide smashed the average sales numbers posted by other U.S. chains and raked in $5,626 per square foot in the trailing four quarters ending in August 2011.
According to Asymco's Horace Dediu, the data shows that Apple's performance nearly doubled that of first runner up Tiffany & Co. and was seven times more efficient than the median of the top 20 retailers. The sample size for the findings was 160 American companies, excluding restaurants.
The following benchmarks are derived from sales per unit area:
Annual store sales in the range of $300 per square foot is considered respectable in the US.
The US national average for regional malls is $341.
The average for specialty apparel retailers is $400 per square foot.
The average for jewelers is in the range of $600 per square foot.
The median for the best 20 US retailers is $787/sq. ft.
Not only do Apple Stores lead in sales, but their growth is also at the head of the pack, leading Canadian company lululemon athletica by more than 25 percent. Year-over— year, Apple saw a 70.5% change in sales across the 327 global stores open as of August 2011. It should be noted that lululemon was considered a U.S. retailer in the study because a majority of its stores are located in America.
Apple Stores saw $5,626 (represented incorrectly in left graph), and a 70.5% year-to-year growth in sales. | Source: Asymco
Of the other major electronics retailers in the U.S., only GameStop and Best Buy made the top 20, managing a fifth place and tenth place finish respectively in sales per square foot. The two companies' saw poor growth, however, with the game dealer seeing only a 2.9 percent change while the big-box electronics store went negative, contracting 0.6 percent.
The Apple Store initiative was headed by former exec Ron Johnson, with the first location opening in 2001. Since then, the chain has grown to 363 locations as of January 2012, with flagships in major metropolitan cities around the world.
Furthering its reach to a broader consumer audience, Apple recently unveiled one of the first examples of a so-called store-within-a-store at an Arkansas Walmart. The new concept is akin to Best Buy's model where Apple products are displayed in a physically separate area that mimics a true Apple Store's layout.. Target is expected to open 25 store-within-a-store outlets in 2012 and Harrods of London has also created a similar offering for U.K. consumers.