Apple defends iPad in Australia, claims '4G' branding is correct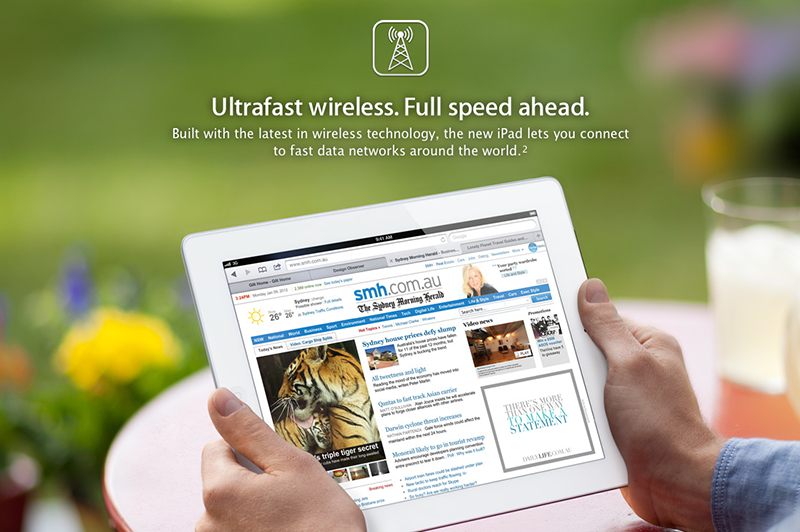 AppleInsider is supported by its audience and may earn commission as an Amazon Associate and affiliate partner on qualifying purchases. These affiliate partnerships do not influence our editorial content.
Apple filed a defense in Australia's federal court this week rebutting allegations that the company intentionally misled consumers, adding that the new iPad's "4G" label is technically correct despite a lack of compatibility with the country's existing "4G" networks.
The Australian Competition & Consumer Commission accused Apple of deceiving consumers by labeling the third generation iPad as a 4G product, but the company has denied the claims saying that it never marketed the device as being compatible with Australia's 4G networks, reports The Australian.
Apple's argument calls out the semantics surrounding "4G" and claims that Australia's networks are mislabeled, not the iPad. The existing 3G networks operated by Telstra, Optus and Vodafone can be called "4G networks in accordance with accepted industry and regulatory use of the descriptor '4G," Apple said.
The statement is in response to earlier an earlier assertion from the ACCC that by including "4G" in the iPad's branding it misled buyers into thinking that the device would operate on existing Australian 4G networks.
The third generation iPad uses the 700MHz and 2100MHz frequencies to connect with so-called 4G networks and can only use latter in Australia. Currently, the three telecoms use the UMTS standard on the 2100MHz band, marketing it as a 3G technology.
Apple's Australian iPad website has been updated to not market the device's 4G-capabilites. | Source: Apple
In a related labeling issue, Apple in March changed the wireless network indicator icon on AT&T iPhone 4S handsets in the U.S. to "4G" after the carrier began marketing the HSDPA standard as a next-generation technology.
It seems that the computer giant is taking the same tack with the Autralian iPad dispute and claims that "the iPad with WiFi + 4G is a device which performs in accordance with the descriptor '4G' in terms of data transfer speed." The company went further, and noted that the name of a product doesn't necessarily denote compatibility with any specific network.
"The descriptor '4G' ... conveys to consumers in Australia that the iPad with WiFi + 4G will deliver a superior level of service in terms of data transfer speed (consistent with accepted industry and regulatory use of that term), and not that the iPad with WiFi + 4G is compatible with any particular network technology promoted by a particular mobile service provider in Australia."
"There was at all material times information widely published in Australia which informed consumers that the iPad with WiFi + 4G was not compatible with Telstra's 4G LTE network," Apple said.
To quell consumer blowback Apple has offered refunds to those customers who bought the new iPad expecting it to operate on Telstra's LTE network. The company also updated its website to clarify the device's capabilities as they pertain to Australian cellular networks.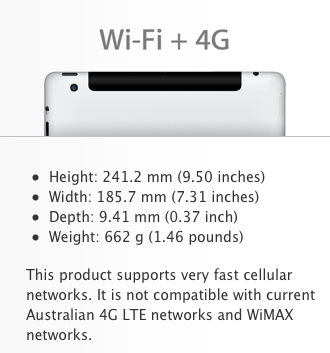 As carriers and device makers clamor to roll out exciting next-generation products, 4G has become a buzzword to all things mobile. Originally defined by the International Telecommunications Union's' radio communications office in 2008, the International Mobile Telecommunications Advanced (IMT-Advanced) specification, or 4G, can be any standard that has the capability of reaching transfer speeds in excess of 100 megabits per second with a peak rate of 1 gigabit per second.
With the debut of the WiMax and LTE standards, both of which have the possibility of being 4G technologies though currently don't reach speeds anywhere near 100Mbit/s, saw carriers worldwide begin to call their networks "4G" in a bid to lure customers. Making the situation more confusing was the ITU-R's 2010 announcement that WiMax, LTE and other post-3G technology can be marketed as 4G as long as its upgrade path can one day meet the defined speeds.
As for Apple's Australian dispute, a full hearing is expected to begin in May.