Verizon activated 3.2 million iPhones in Q1, outselling all other smartphones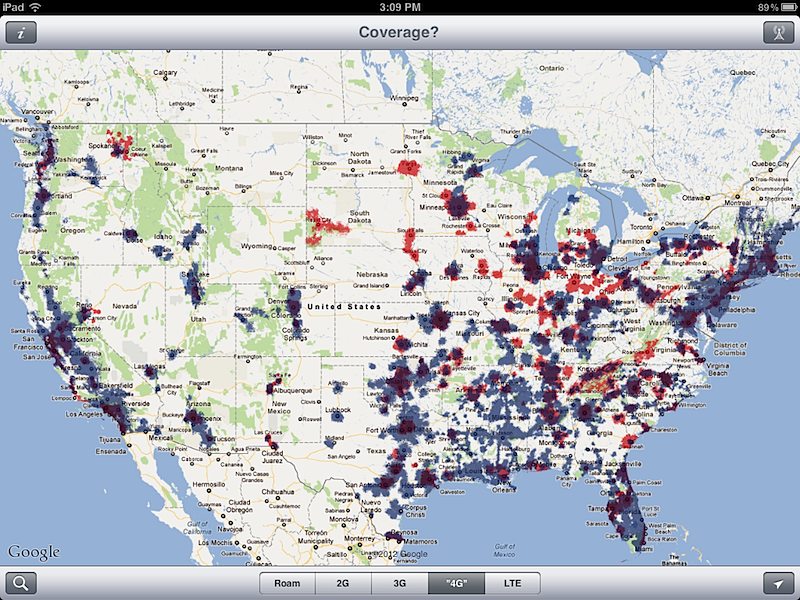 Verizon Wireless has reported a 7.7 percent year-over-year increase in mobile service revenues, while noting in a conference call that more than half of its 6.3 smartphones sold during the quarter were iPhones.
Verizon's results are particularly notable given the carrier's focus on its new 4G LTE mobile data network, which none of Apple's iPhone models current support. Despite incessant marketing of 4G phones and service over the last year, the carrier's top selling brand is a CDMA EV-DO 3G-only device.
Verizon was the first American carrier to leap to LTE, and now claims that "service is available to more than 200 million people in 230 markets across the U.S. - more than two-thirds of the population." A minor improvement upon the service area depicted by the Coverage app (below).
Apple has launched its new iPad on Verizon with support for LTE, which AppleInsider profiled against the AT&T model in a 4G LTE speed test. Both service providers delivered extremely fast downloads in excess of 40Mbps with LTE.
Apple is expected to release a new iPhone with LTE capabilities this summer. However, Verizon's first calendar quarter of 2012 shows strong momentum for the existing iPhone 4S and iPhone 4, which amounted to 3.2 million of the 6.3 million smartphones Verizon activated during the quarter. The allure of iPhone helped Verizon add 734,000 retail net customers in the first quarter.
iPhone driving Verizon sales
While selling Apple's iPhones involves higher subsidies for Verizon compared to other manufacturers' mostly Android-based devices, the value of the iPhone in attracting new subscribers and converting feature phone users to buy smartphone contracts is indisputable, eroding away at fears that carriers will actively seek to drop subsidy payments simply because they're expensive.
Verizon reported that "at the end of the first quarter, nearly 47 percent of Verizon Wireless' retail postpaid customer phone base were smartphones, up from 43.5 percent at the end of fourth-quarter 2011."
Churn, referring to loss of subscribers to other carriers, also improved for the carrier. "Retail postpaid churn was 0.96 percent, an improvement of 5 basis points year over year. Total retail churn was 1.24 percent, an improvement of 9 basis points year over year," the company reported.
In the previous winter quarter during the launch of iPhone 4S, Verizon sold 4.3 million iPhones out of the more than 37 million smartphones Apple sold internationally. This quarter, Apple is expanding its iPhone sales network to include new carriers including China Telecom, which at 117 million subscribers is larger that Verizon's 93 million.
Next week, Apple is widely expected to report sales of around 30 million iPhones in its quarterly earnings.