iPad shipping times improve to 5-7 days as Apple catches up with demand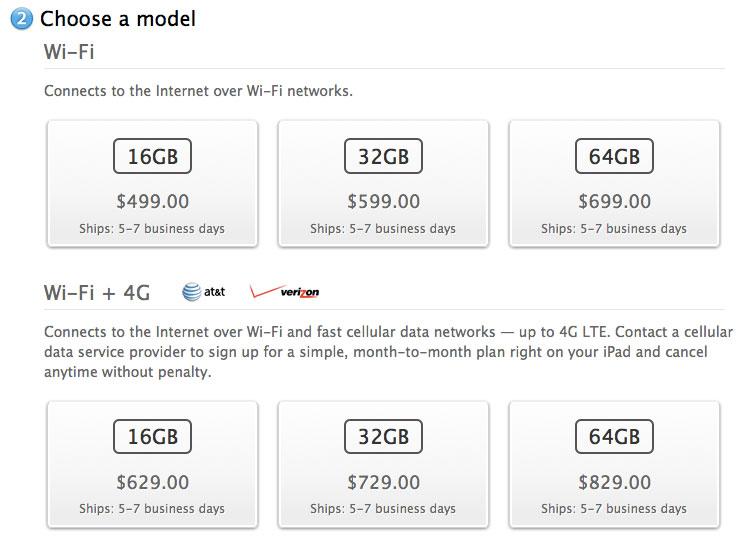 AppleInsider may earn an affiliate commission on purchases made through links on our site.
More than a month after the launch of the new iPad, Apple has begun to rein in estimated shipping times, which are now advertised at 5 to 7 business days.
Orders of the new iPad from Apple's official site are now listed to ship in less than 7 business days for all capacities, colors, and even the 4G LTE-capable models. The improved shipping times were first noted on Friday by CNet.
Just before the iPad went on sale in March, online shipping estimates slipped to one to two weeks as Apple sold out of preorders and struggled to keep up with demand. Shipping times quickly improved to one to two weeks, but had remained at that level for the past month.
The latest shipping estimates suggest that Apple has begun to catch up with demand for its strong selling tablet, which sold a record 3 million units over its launch weekend. The new iPad initially launched in 10 countries, but quickly expanded to 24 more countries a week later.
Earlier this month, there were indications that Apple's stock of iPads was being squeezed by limited supply of Retina displays. The new high-resolution screen, which is the defining feature of the third-generation iPad, has primarily been built by Samsung, while LG and Sharp were said to have had trouble building Retina displays initially.
The new Retina display has been particularly difficult for Apple's partners to manufacture, as it packs in 264 pixels per inch onto the 9.7-inch touchscreen. That gives the new iPad a larger number of pixels than a 1080p high-definition television set.
Analysts on Wall Street expect that Apple will sell as many as 66 million total iPads this year, allowing the company to maintain its dominance in the tablet market.