Denver Broncos to use Apple's iPad as playbook for 2012 NFL season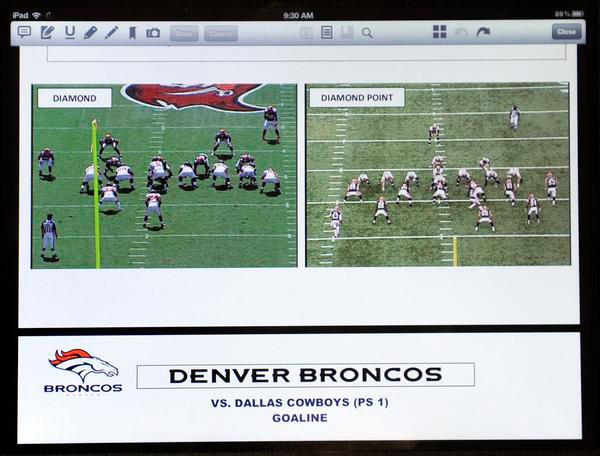 AppleInsider is supported by its audience and may earn commission as an Amazon Associate and affiliate partner on qualifying purchases. These affiliate partnerships do not influence our editorial content.
The 120 players, coaches and other staff of the National Football League's Denver Broncos will each be equipped with Apple's iPad to use as a digital playbook for the 2012 season.
The iPad will be used to replace traditional, bulky playbooks that can grow as large as 500 pages, according to the Denver Post. The iPads provided to the team will be equipped with plays, scouting reports, video clips and more.
The Broncos will join the Tampa Bay Buccaneers, who were the first to equip its players with iPads at the start of last season. The Baltimore Ravens have also ditched printed playbooks in favor of Apple's touchscreen tablet.
"The advantage is that when they leave the building, they can take everything home with them very easily and watch tape at night and review the game plan installation," said Broncos general manager Brian Xanders. "This is their full-time job — to prepare and do whatever they can to help us win each week."
The NFL does not allow electronic devices, like tablets, on the sideline during games. But players are free to use their iPads to prepare for the gridiron, and starting this season will even be able to use devices in the locker room up until kickoff.
Players will be provided Apple's top-of-the-line 4G LTE Verizon iPad, with 64 gigabytes of capacity. They sell for $829 each, but the organization still expects to save money, as it will no longer need to print tens of thousands of playbook pages each season.
The Denver Broncos will use Apple's iPad as a playbook for the 2012 season. Photo
via
the
Denver Post
.
The iPads provided to members of the Broncos will utilize playbook software built by PlayerLync. Using the software, players and coaches can write notes and highlight plays, and the data is remotely stored in the cloud.
The iPad may soon be coming to more NFL teams beyond the three that currently use Apple's tablet, as PlayerLync indicated it is in talks with a handful of other organizations about providing its services.