One in five Macs harboring Windows malware - report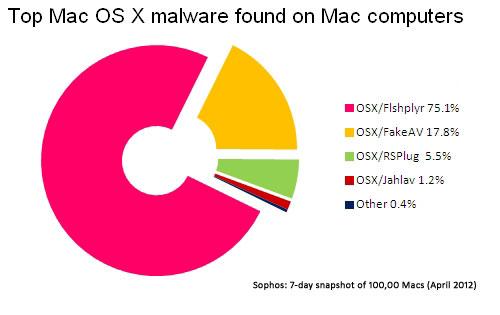 Windows malware is so prevalent that a new study has found it quietly present on 20 percent of Macs, dwarfing the number of Apple machines infected with actual OS X malware.
The details come from a sampling of users who downloaded the free Mac antivirus software from Sophos. Among the 100,000 Macs reviewed by the security firm, 20 percent of them were carrying one or more instances of Windows malware.
The firm noted that Windows malware on Macs will not cause any symptoms, unless users utilize Apple's Boot Camp software to run Windows in addition to OS X.
While one in five Macs were found to have Windows malware, just 2.7 percent of machines studied by Sophos were infected with malware specifically tailored to OS X. And nearly all of that malware — 75.1 percent — came in just one form: "Flshplyr," a variant of the "Flashback" Trojan.
Sophos believes that Mac owners should be "a responsible member of society" and ensure that their system is not infected with any Windows malware. This could help to stop the spread of such software, even if its presence on a Mac has no effect on that user.
As for Mac-specific malware, Apple's OS X operating system recently saw its greatest threat ever in the form of the Flashback Trojan. At its peak, the malware was estimated to have infected 600,000 Macs worldwide earlier this month.
Presence of the Trojan has since been limited after Apple released a Java update to rid machines of Flashback less than two weeks ago. In addition, for those who don't have Java installed and could be harboring a dormant version of the malware, Apple also issued a separate removal tool.
Flashback was first discovered by the security firm Intego last September. The software attempts to trick users into installing it by appearing as Adobe's Flash Player installer package.