Kids' tables at Apple Stores move from iMacs to iPads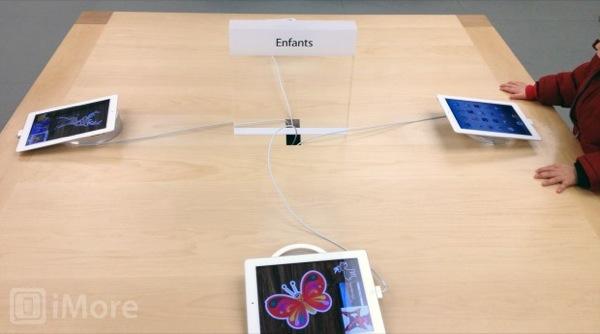 Apple retail stores are slowly replacing the iMacs in child-friendly areas with iPads, marking the first time a product other than the venerable desktop will be displayed at the tables.
It is unclear when the migration from iMacs to iPads began or if it will become an overarching Apple Store policy, but reports confirm that at least a few locations have initiated the switch, reports iMore.
The kids' area was part of the computer giant's retail plan from beginning and was built into the first Apple Store which opened in 2001.
Since its inception, the children's table has always featured the all-in-one iMac, receiving regular refreshes as the company moved from CRT models to the current aluminum body versions. With their pre-loaded software, the machines were advertisements not only for the iMac as an educational tool, but also for learning programs that might have otherwise been overlooked.
The new iPads continue the demo-learning tradition and feature child-friendly apps that are easy to pick up and play. Games are de rigueur, though beyond that the installed content has gone unreported.
Apple's kids' area floor plan remains the same, with low-rise wooden tables surrounded by the distinctive squishy, ball-like chairs made by Baleri Italia. The location also hasn't changed from being one of the farthest places inside the store, which allows parents to drop their children off as they browse Apple's wares.

New iPads seen at Apple Store kids' area. | Source: iMore
The iPad continues to be a dominating presence at Apple Stores worldwide. The company recently swapped out product information placards for the more interactive tablet running proprietary software that not only features an item's specs and comparable models, but is also able to call for help from an in-store specialists, some of whom carry iPads running specialized software.
Apple is pushing into the education space with its affordable iPad 2 which, at its new $399 price point, saw twice as many purchases than Macs from U.S K-12 schools. Paired with with the revamped iTunes U, the iPad is shaping up to be a real contender for institutions looking to jump into digital textbooks.