Shipping times for Apple's new iPad improve to 3-5 days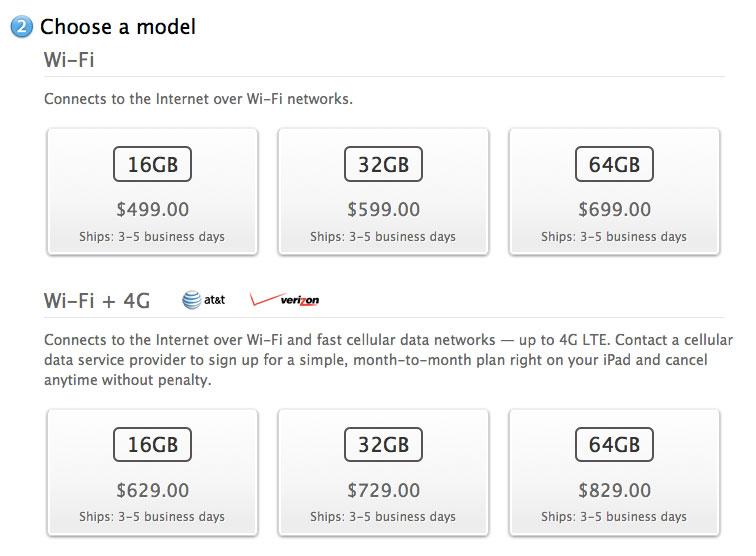 AppleInsider is supported by its audience and may earn commission as an Amazon Associate and affiliate partner on qualifying purchases. These affiliate partnerships do not influence our editorial content.
In yet another sign that supply of the new iPad is catching up with demand, estimated shipping times in Apple's online store have reached 3 to 5 business days.
New orders of the third-generation iPad in both black and white, in all capacities, and also in the "Wi-Fi + 4G" models are now advertised to ship in less than a week in the U.S. It's the second time in less than a month that estimated shipping times have improved for the new iPad.
Apple revealed last week that it sold 11.8 million iPads in the March quarter, a three-month span during which the new iPad was only available for a few weeks. During his company's quarterly earnings conference call, Apple Chief Executive Tim Cook revealed that the company faced supply constraints with the new iPad.
"The new iPad was supply constrained last quarter for the first three or so weeks that it was shipping, and it is still constrained," Cook said. He added that he expected the company would be able to supply "a significant number of iPads" in the current June quarter.
Limited availability of the new iPad is believed to be largely caused by constraints related to the new high-resolution Retina display. The screen, the defining feature of the third-generation iPad, has primarily been built by Samsung, while LG and Sharp were said to have had trouble building Retina displays initially.
The new Retina display packs 264 pixels per inch onto the 9.7-inch touchscreen, which gives the iPad a larger number of pixels than a 1080p high-definition television set. The pixels crammed onto the iPad's Retina display are believed to be at the upper limit of pixel density for LCDs manufactured through the "a-Si TFT" production process.