Rumor: Apple's next iPhone will be 2mm thinner with 4" screen, metal back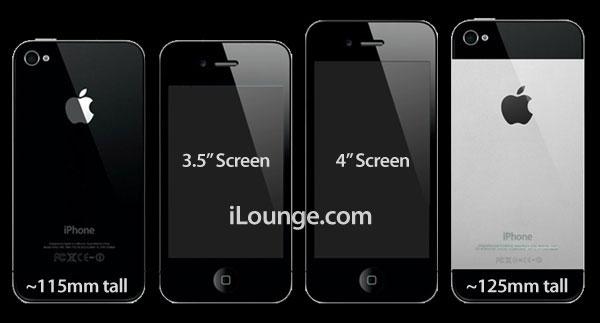 Apple's next iPhone will be slightly taller to accommodate a 4-inch screen with a new aspect ratio, will feature a redesigned dock connector, and will also have a new metal panel on the back side, a new report claims.
The latest rumors about Apple's sixth-generation iPhone came on Thursday from iLounge, which said the new iPhone will be about 10 millimeters taller, giving it dimensions of 125 millimeters tall, 5.8 millimeters wide and 7.4 millimeters thick. That's about 2 millimeters thinner than the current iPhone 4S, with essentially the same width as the current model.
Because the new iPhone will allegedly be the same width, that would mean that new applications would need to be designed to work with the handset. The taller screen would have more pixels at the top and bottom, giving it a different aspect ratio.
"According to our source, Apple will make one major change to the rear casing, adding a metal panel to the central back of the new iPhone," the report said. "This panel will be flat, not curved, and metal, not ceramic."
Author Jeremy Horwitz also added that the new iPhone is expected to be partially made from Gorilla Glass 2, which offers identical strength to the original Gorilla Glass with a thinner design. At just 0.8 millimeters thick, Gorilla Glass 2 can withstand 121 pounds of pressure.
Finally, the report also claimed that the next iPhone will have a new, smaller dock connector that will be "a little larger" than the bottom speaker and microphone ports on the existing iPhone 4S. The new port was described as "a pill shape," and is believed to have just 16 pins, compared to the current 30-pin dock connector.
"It will be used in all upcoming devices, including an update to the iPod touch that's expected this year, and will almost certainly feature a similarly updated screen and CPU," the report said.
In March, iLounge reported that Apple was working on a new case for the iPad that would protect not only the front screen, as the current magnetic Smart Case does, but also the aluminum back panel of the device. The site credited a "repeatedly reliable source," but such a case has not yet been released.
The rumors come on the heels of a new component claimed to be the SIM card tray for Apple's next-generation iPhone. A home button also purported to be from a prototype Apple handset also appeared, but no components thus far have given any concrete indication that the next iPhone's design will be a radical departure from the look of the iPhone 4 and iPhone 4S.

Still, there has been rampant speculation that Apple's next iPhone will have a redesigned exterior. Rumors of unibody enclosures, larger screens and thinner form factors have all cropped up in recent months.
Early prototyping of the next iPhone is believed to be underway ahead of a launch anticipated this fall, one year after the debut of the iPhone 4S. In March it was said that Apple was reviewing potential components for the new iPhone.
Rumors surrounding the next iPhone have picked up steam in recent weeks, as one report said the handset will feature Qualcomm's "MDM9615" LTE 4G chip for high-speed wireless connectivity. Reports have also claimed that the next iPhone will adopt in-cell touch panel technology, which will allow Apple to make the next iPhone thinner by 0.44 millimeters, or fit in a larger battery.