iPhone 4S launch helps China top US to become largest smartphone market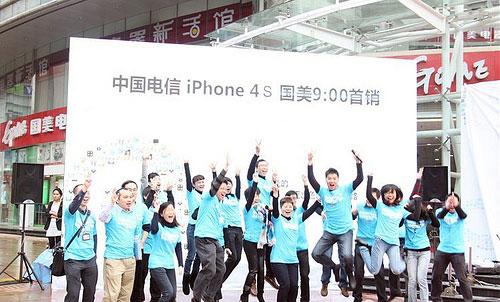 Further demonstrating the importance of China to Apple's business, the country has now surpassed the U.S. in terms of smartphone subscribers, making it the largest smartphone market in the world.
The changing of the guard was noted this week by research firm Canalys, which said the arrival of the iPhone 4S in China in January helped the market move past the U.S. In the first quarter of 2012, China represented 22 percent of global smartphone shipments, while the U.S. accounted for 16 percent.
Just a year earlier, the roles were flipped: It was the U.S. that accounted for 22 percent of smartphone sales, while China was behind it with 16 percent.
Total smartphone shipments grew 45 percent year over year to 146 million units, but shipments in the U.S. rose just 5 percent year over year. Shipments in China doubled during the same period, allowing it to overtake the U.S.
To further show how the market has shifted, Canalys revealed that out of the top 10 countries where smartphones are sold, half of them are now located in the Asia-Pacific region. Shipments in the Asia-Pacific region grew a whopping 81 percent year over year in the first quarter.
The iPhone accounted for 19 percent of all smartphones shipped to China in the first quarter of 2012, making the company second only to Samsung, which took a 22 percent share of the market. Two-thirds of smartphones that shipped in China in the first quarter were based in China.
The importance of China to Apple was apparent in the iPhone maker's most recent quarterly earnings conference call, in which Chief Executive Tim Cook revealed that iPhone sales in Greater China were five times greater during the March quarter of 2012 than they were a year prior.
Apple's success in China also goes beyond the iPhone, as the company's much-touted "halo effect" also pushed Mac sales up 60 percent year over year during the last quarter. Cook said he considers it "mind boggling" that Apple could do so well in China, where revenue for the quarter was $7.39 billion.
"China has an enormous number of people moving into higher income groups — middle class, if you will," he said. "And this is creating a demand for goods — not just Apple's, but other companies' as well."
One analysis issued earlier this week from Chris Whitmore of Deutsche Bank found that iPhone sales are "just getting started" in China. He said that even if Apple doesn't forge a partnership with China Mobile, the largest carrier in the world, he still believes Apple will reach sales of 35 million iPhones in that market in 2013.
AppleInsider has affiliate partnerships and may earn commission on products purchased through affiliate links. These partnerships do not influence our editorial content.