Apple says lack of multi-user support on iPad is a 'known issue,' 'being investigated'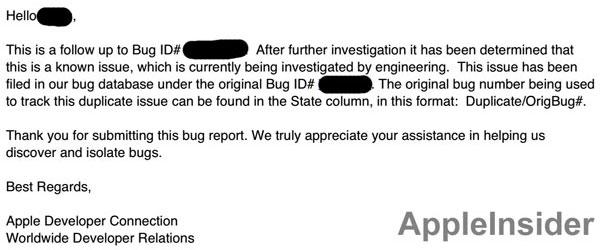 Apple has signaled that it is aware of a desire to support multiple users on one iPad, and that the issue is "currently being investigated" by the company's engineering team.
The developer reached out to AppleInsider after they received a reply from Apple after submitting a bug report. Apple's Bug Reporter includes an option to specify that a submission isn't a bug report, but rather a suggestion.
In the suggestion submitted to Apple, the developer simply requested that the company add support for multiple users to the iPad.
"After further investigation it has been determined that this is a known issue, which is currently being investigated by engineering," the official response from Apple Developer Connection's Worldwide Developer Relations team reads.
The developer said they have often used Apple's Bug Reporter to submit requests for new features. However, this standard form letter is the first time that Apple has actually responded to such a submission from this particular developer.
Apple's response is not the first indication that the company may be working on multi-user support for the iPad. In 2010, before the iPad was officially announced, The Wall Street Journal reported that an early prototype of the device was designed to be shared by and customized for multiple family members.
Sharing the iPad was said to have been a major focus for Apple early on in the device's development. One idea the company was said to have experimented with was the ability for users to leave virtual sticky notes on the device for someone else to read once they began using it.
Apple was also said to have considered having the iPad recognize individuals via a built-in forward facing camera. The 2010 report said it was "unclear" whether the features would be included at launch, and it would turn out that none of them would be a part of the first three generations of iPad models.
Facial recognition has also been the key element of Apple's patent applications related to multi-user support on iOS devices. One such filing detailed by AppleInsider in December described a system that would quickly identify a user, and customize the device with their unique applications, settings and wallpaper.