Apple remains most valuable global brand with 19% growth to $183 billion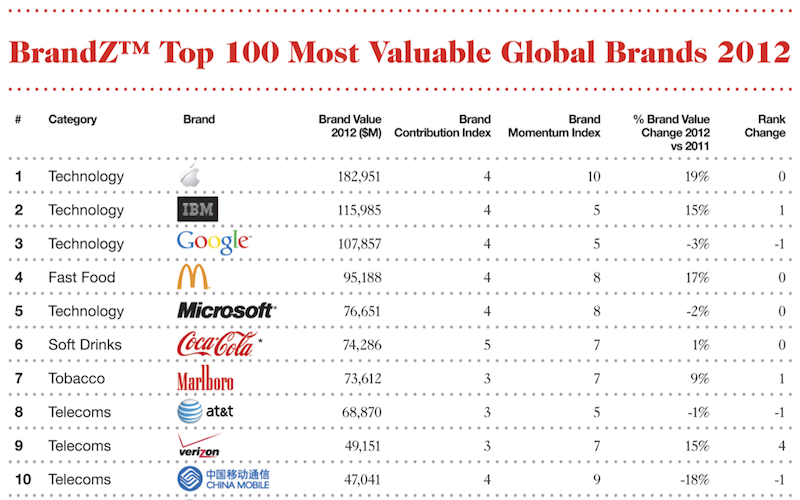 AppleInsider is supported by its audience and may earn commission as an Amazon Associate and affiliate partner on qualifying purchases. These affiliate partnerships do not influence our editorial content.
A new survey again placed Apple as the world's most valuable brand, even as nearly half of the top 100 global brands, including rivals Google and Microsoft, lost value over the past year.
IBM grew 15 percent year over year to climb to second place. A three percent drop in brand value caused Google to slip from last year's second-place showing to third-place in 2012. McDonald's placed fourth, while Microsoft came in fifth with a brand value of $76.65 billion, down two percent from last year. Coca Cola and Marlboro placed sixth and seventh, respectively.
Three wireless operators rounded out the top 10. AT&T placed eighth with a value of $68.87 billion, followed by Verizon at $49.15 billion. China Mobile, the world's biggest carrier, came in 10th with a value of $47.04 billion.
Other notable technology companies on the list include: Amazon.com ($34.01 billion, No. 18), Facebook ($33.23 billion, No. 19), HP ($22.90 billion, No. 26), Intel ($15.63 billion, No. 49), Samsung ($14.16 billion, No. 55) and Sony ($9.44 billion, No. 86).
2011 proved to be a difficult year for brand growth, according to the survey. The aggregate value of the top 100 brands grew just 0.4 percent, compared to 17 percent growth last year. The report cited "myriad economic and political issues that eroded consumer confidence in the developed economies" and slowing expansion in emerging markets as reasons for the sluggish overall growth.
Social networking site Facebook, however, continued its rapid growth in spite of the tough economic climate. For the second year in a row, the company had the biggest growth in brand value. Facebook's brand value increased 74 percent from last year.
In order to calculate brand value, Millard Brown calculates the earnings of the brand in question and then multiplies it based on projected earnings to arrive at an estimated financial value of a brand. The methodology also takes into account a brand's contribution, or its ability to "stand out from the crowd, generate desire and cultivate loyalty." Brand contribution is calculated as a percentage that is then multiplied by financial value to determine brand value.