Apple working with North Carolina to increase local green energy production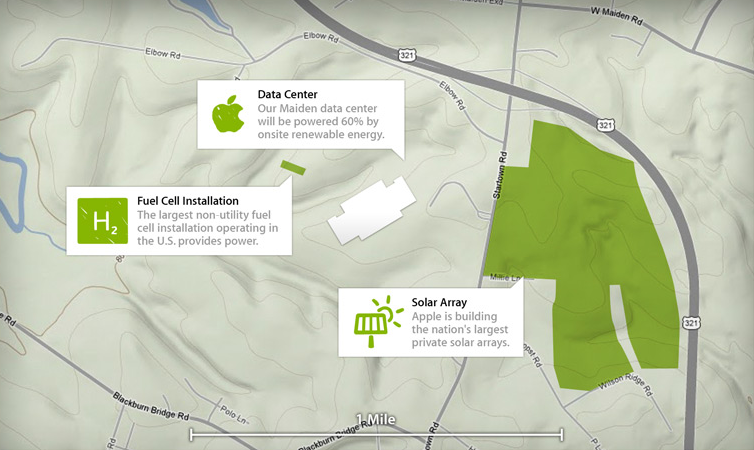 Apple has revealed that it is working with a nonprofit organization, which was created by the North Carolina Utilities Commission, to augment regional "local renewable energy production" that will supply its data center there with green energy.
The Cupertino, Calif., company announced last week that it plans to power its Maiden, N.C., data center completely with renewable energy by the end of this year. A Renewable Energy section of Apple's website highlighted by MacNN and ZDNet on Monday offers additional specifics about the Mac maker's efforts to protect the environment.
"We're also partnering with NC GreenPower — an independent, nonprofit organization created by the North Carolina Utilities Commission — to increase local renewable energy production throughout North Carolina," the page read.
Apple said that its largest project with the organization so far has been assisting a landfill located three miles from its data center with generating electricity from waste methane gas.
40 percent of the power required to run Apple's server farm will be clean energy directly purchased from "local and regional sources." The remaining 60 percent will be produced onsite through solar power and fuel cells.
Apple is building two solar array installations to produce a total of 84 million kilowatt-hours of energy per year. One 100-acre lot is located across the street from the data center, while a second 100-acre installation will be built "a few miles away." The company is also planning to complete a "bio-gas-powered 5-megawatt fuel cell installation" later this year. The amount of renewable energy produced onsite by Apple would be enough to power 10,874 homes, the company noted on its website.
The company has also pledged to register its renewable energy with the North Carolina Renewable Energy Tracking System in order to ensure "accountability and transparency."
Apple's webpage touted the company's commitment to design its centers for energy efficiency. It boasted that the Maiden data center is the only one of its kind to have earned a "coveted LEED Platinum certification" from the U.S. Green Building Council. Energy-efficient design elements of the facility highlighted by Apple include: a chilled water storage system, use of "free" outside air cooling during cool-weather hours, precise cooling distribution management, high-voltage power to reduce power loss, a solar reflective white roof, high-efficiency LED lighting, real-time power monitoring and analytics and efficient construction.
In addition to its Maiden center, Apple called attention to its other facilities on the Renewable Energy page. According to the company, its Austin, Texas operations center has used only renewable energy for almost 10 years. Sacramento, California; Cork, Ireland and Munich, Germany facilities now also make use of 100 percent renewable energy. Those efforts have avoided 30,000 metric tons of CO2e emissions annually, Apple said. The company's corporate headquarters in Cupertino, Calif., use over 50 percent renewable energy.
A forthcoming data center in Prineville, Oregon, will be "every bit as environmentally responsible" as the North Carolina center. The location will purchase enough wind, hydro and geothermal power from local sources to completely power the facility. Apple has apparently agreed to invest $250 million on the project in exchange for property tax exemption.
Apple also said that it had recently been granted regulatory approval to buy clean energy for its data center in Newark, Calif. The company plans to fully power the facility with direct-access renewable energy by February 2013.
In spite of Apple's efforts to build environmentally-responsible facilities, activist group Greenpeace has targeted the company with protests over its North Carolina data center.
"Apple's executives have thus far ignored the hundreds of thousands of people asking them to use their influence for good by building a cloud powered by renewable energy," Greenpeace USA Executive Director Phil Radford said last week. "As Apple's customers, we love our iPhones and iPads, but we don't want to use an iCloud fueled by the smog of dirty coal pollution."
In April, the organization accused Apple of overstating its solar arrays. According to Greenpeace's calculations, one solar farm would only provide 10 percent of the facility's power needs. Apple, however, quickly fired back, claiming that on-site renewable sources would provide 60 percent of the center's requirements.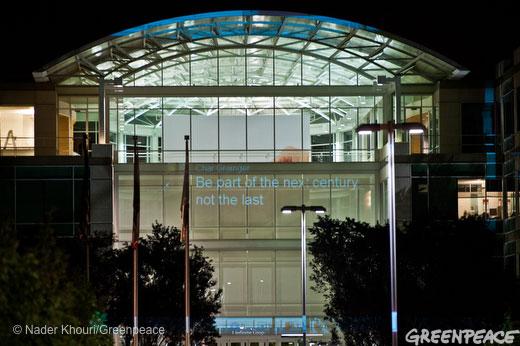 Even as Apple is undertaking efforts to build and operate environmentally-responsible facilities, the company is preparing for a new class of data centers. A job listing for a data center construction project manager revealed in March described the role as an "important part" of an internal team "responsible for the design and construction implementation of the next generation of data centers."