Apple's WWDC 2012 schedule and official iOS app now available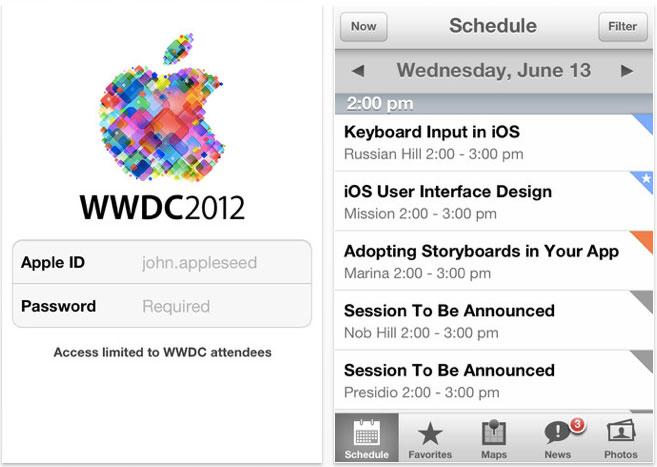 Apple on Tuesday launched the official iOS application for its 2012 Worldwide Developers Conference, and also posted the full conference schedule on its website.
The WWDC 2012 schedule is now available to view at the official site. There, attendees can sign in, access the conference schedule, and view session-related resources.
The official WWDC 2012 application is a free 5.3 megabyte download (iTunes link) designed for both iPhone and iPad. It's designed to help attendees stay up-to-date while at this year's conference.
Users can sign in to the WWDC 2012 application with the Apple ID associated with their ticket to the conference. From there, attendees can:
Browse the conference schedule: View times, locations, and detailed descriptions for sessions, labs, and special events. Filter the schedule view by tracks, sessions, labs, or OS to easily find what you're looking for. Provide feedback on sessions and labs you've attended.
Plan your week with favorites: Double tap any session, lab, or special event to mark it as a favorite and help plan your week. Favorites in the same time slot are listed together so you can quickly spot any conflicts and better plan your week.
Keep up on the latest news: Stay up to date on news and announcements from the conference including room or schedule changes, baggage check-in times, and more.
Find you way around: View detailed maps of Moscone West to find session rooms, labs, and other points of interest.
View daily photos: Enjoy even more of the WWDC experience with fun and candid photos throughout the week.