AT&T CEO says data-only subscriptions 'inevitable' for wireless networks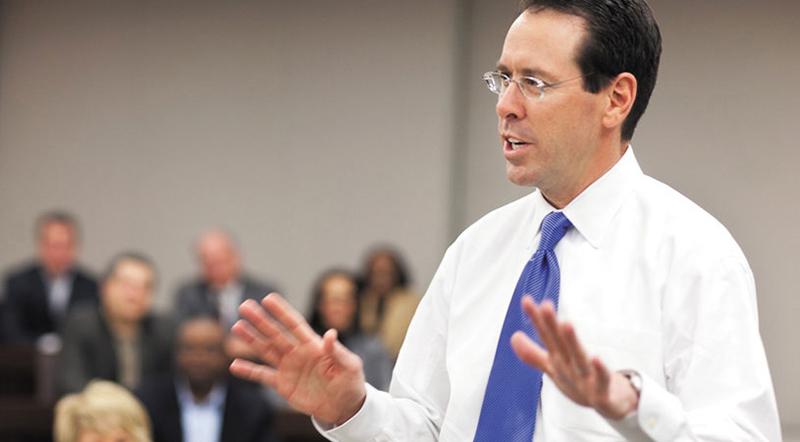 AT&T CEO Randall Stephenson said on Friday that data-only wireless phone plans are likely to arrive within the next two years, marking a dramatic shift away from traditional cell network usage toward VoIP and text-as-data solutions like Apple's iMessage.
Speaking at an investors conference, Stephenson said that while AT&T had no plans in place to offer an all-data subscription model, the industry is trending in that direction as smartphones continue to gain popularity led by Apple's iPhone and handsets running Google's Android mobile operating system, reports the Associated Press.
"I'll be surprised if, in the next 24 months, we don't see people in the market place with data-only plans," Stephenson said. "I just think that's inevitable."
Under a data-centric plan users would have to use VoIP solutions like Skype to hold voice conversations, changing Internet calling into a necessity rather than an option to save on billed minutes. The switch would also be disruptive to the installed system in which telecoms monetize voice calls by charging each other to connect to cellphone numbers. This is one of the reasons why voice and data charges are billed separately.
Stephenson recently bemoaned AT&T's decision to offer unlimited data with the original iPhone and iPad, adding that Apple's iMessage is also a source of concern because it takes away from the company's texting revenue.
While it may seem ironic that texting is quickly moving the industry away from voice technology toward a style of communication seen in pagers during the 1990's, the reality is that modern data exchanges offer a much richer and more immediate experience than their obsolescent counterparts. Smartphones give users the ability to be in constant contact with each other, and new data-driven apps like Sounder literally keep an open connection to friends and peers.
As telecoms move to 4G LTE, an increasing amount of consumers will use an increasing amount of limited bandwidth which could force carriers to raise prices or find alternative solutions.
AT&T CEO Randall Stephenson. | Source: AT&T
For now, AT&T is hoping to introduce a shared data plan similar to how the company offers shared voice plans for families. The initiative is a long time coming and the carrier has been "working on it" for over a year, presumably to find a way to implement such a service without losing profits.
With shared data plans essentially representing a discount for users that would normally buy separate plans for each device they owned, the prospect of the pricing structure would seemingly be damaging to telecoms' bottom lines. Stephenson pointed out that AT&T is looking to make more money from shared data, not less.
When you have millions of devices such as tablets that lack cellular data plans, Stephenson said, "it seems to me it's a lift, not a deterioration" to get them connected. The chief executive is referring to users who may not be using the cellular capabilities of their iPads or other tablets and are instead operating solely on Wi-Fi.
To make data plan pricing more attractive to consumers Stephenson noted that the wireless industry will experiment with charging content providers for the data used to access their websites in a type of "800 toll-free number" system. Critics say this would give the upper hand to well-established companies that can afford to pay the instituted subsidy and squelch competition from cash-poor startups. The experiment will likely start within the year, though it is unknown which carriers will be taking part in the initiative.
"It's not us going out and mandating this. The content guys are coming in asking for it," Stephenson said. "If you don't allow those kinds of models to flourish, you're going to inhibit the potential of these services."