Apple's next iPhone may sport HD-capable front camera, be just 7.9mm thick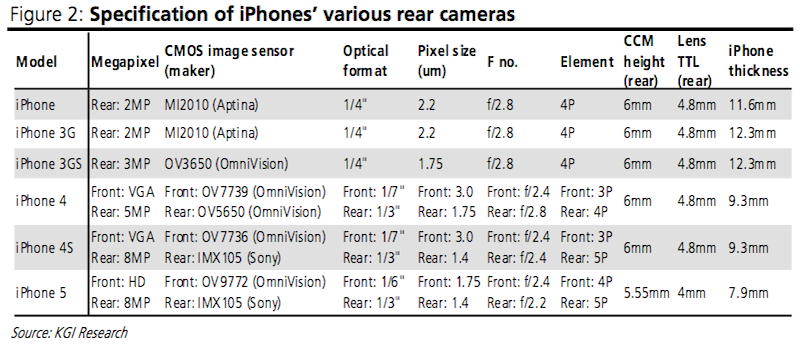 Apple's sixth-generation iPhone could include a front-facing camera capable of HD resolution, according to a new reported from a trusted analyst insider.
The Cupertino, Calif., company is expected to make "quite a few essential adjustments" to its next iPhone, KGI analyst Mingchi Kuo said in a note to investors earlier this week.
In addition to the move to HD, he believes Apple will also employ a flip-chip (FC) solution for the front-facing camera on the upcoming iPhone. The camera's position would be moved to the middle, he said.
Kuo noted that an HD front camera would better suit the

">4-inch display

that he expects Apple's sixth-generation handset to have. Currently, the front-facing camera of the iPhone 4S is capable of VGA resolution.
As for the rear-facing camera, Kuo said Apple will likely retain the 8-megapixel camera while improving the aperture range to go up to f/2.2. The iPhone 4S has a maximum aperture of f/2.4. The analyst also predicted that the rear camera on the next iPhone will be noticeable thinner, "making it the most challenging iPhone design yet."
According to his analysis, the new iPhone's rear camera will have a CCM of 5.55mm and a lens TTL of 4mm, down from 6mm and 4.8mm on the iPhone 4S. Apple's suppliers will reportedly face "unprecedented challenges" producing the rear camera component because of the changes to the design.
Kuo issued a report in April claiming that Apple will slim down the iPhone to 7.9mm or less. The iPhone 4S has a depth of 9.3mm. The use of an in-cell touchscreen display is expected to shave as much as 0.4mm off the phone.
Sony, which provides the CMOS for the iPhone 4S, announced this January that it had developed a thinner next-generation CMOS. Last month, camera parts allegedly bound for the next iPhone surfaced online. If the parts were indeed authentic, they would suggest that Apple plans to redesign the cameras for its sixth-generation handset.
Apple is expected to launch the new iPhone this fall in either September or October. Some reports have claimed that the device will feature a redesigned form factor and 4G LTE connectivity.