Apple airs new MacBook Pro ad as shipping estimates rise to 3-4 weeks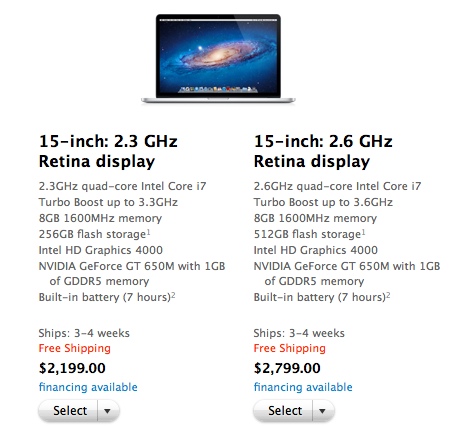 A new television commercial for Apple's new MacBook Pro with Retina Display began airing on Tuesday, even as shipping estimates for the new laptop have risen to three to four weeks.
MacStories reported on Tuesday that the commercial first aired during the NBA Finals. The ad appears to be geared toward professionals, as it shows a MacBook Pro being used to edit photos and video as the camera pans around it to highlight its slimmer profile.
"The radical new MacBook Pro with Retina Display," the narrator says. "Innovation in every dimension."
The new laptop looks to be off to a strong start so far, as shipping estimates have risen to three to four weeks, up from two to three weeks earlier in the day.
Alongside the new Macbook Pro with Retina Display, Apple also announced new traditional MacBook Pro models and new MacBook Airs. Those portables are still listed as in stock on Apple's Website.
Apple outfitted its high-end MacBook Pro with a 2,880-by-1,800-pixel Retina Display that contains 220 pixels per inch. The laptop exists as a hybrid of the MacBook Air and MacBook Pro and has been described by Apple as "the most beautiful computer" it has ever made. Like the MacBook Air, the new MacBook Pro lacks an optical disk drive and comes with Solid State flash storage, but it also carries on many of the design elements of the MacBook Pro line.