Apple's new Ivy Bridge-powered MacBook Pro, Air benchmarked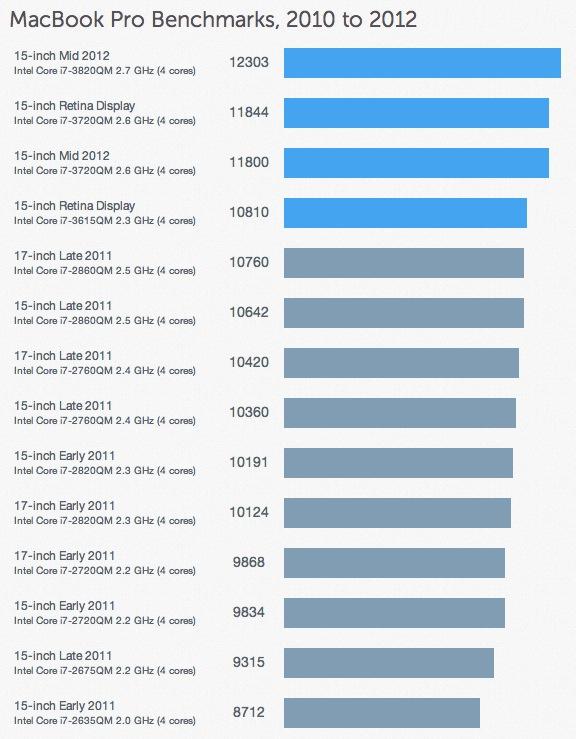 AppleInsider may earn an affiliate commission on purchases made through links on our site.
Benchmark data collected on Tuesday show incremental gains for most of Apple's new MacBook Pro and MacBook Air notebooks that were announced yesterday at the company's Worldwide Developers Conference.
As Apple's newly-refreshed MacBook lineup starts to make its way into the hands of consumers, Geekbench 2 maker Primate Labs began compiling results received at its Geekbench Browser database and pitted the scores against comparable models from 2011.
Four models of the MacBook Pro and all configurations of the MacBook Air were analyzed and the 32-bit data showed the expected moderate gains in performance with the new 2.7GHz Pro leading the way.
Tested models include the new 15-inch Retina Display MacBook Pro with 2.3GHz and 2.6GHz Intel Ivy Bridge CPUs, the legacy design 15-inch MacBook Pro with 2.3GHz and 2.7GHz processors, the 13-inch MacBook Air with dual-core 1.8GHz and 2.0GHz chips and the 11-inch MacBook Air with 1.7GHz and 2.0GHz CPUs.
Apple's fastest 2.7GHz quad-core i7 15-inch MacBook Pro took the top spot with an average score of 12,303 which is almost 14 percent faster than 2011's 2.5GHz 15-inch notebook. The Retina Display MacBook Pro's 2.6 GHz outpaced the carry-over design by a mere 44 points with both being about 13 percent faster than comparable 2011 machines. Trailing the pack was Apple's entry model next generation MacBook Pro which managed a score of 10,810.
As for the MacBook Air, the top-of-the line 13-inch model sporting a 2.0GHz dual-core Ivy Bridge chip barely squeezed past its identically configured 11-inch counterpart with a score of 7,007. Both of the 2.0GHz MacBook Airs outperformed previous generation models by nearly 20 percent.
Noticeably absent from the charts is the 13-inch MacBook Pro, which didn't have any data posted to the Geekbench Browser as of Tuesday.
While the Geekbench 2 benchmark suite computes processing power and memory performance, the jury is still out on video performance and stress tests which should be favorable given Apple's move to an all-SSD architecture and next-generation NVIDIA graphics.