Shipping time for new Retina display MacBook Pro slips to 2-3 weeks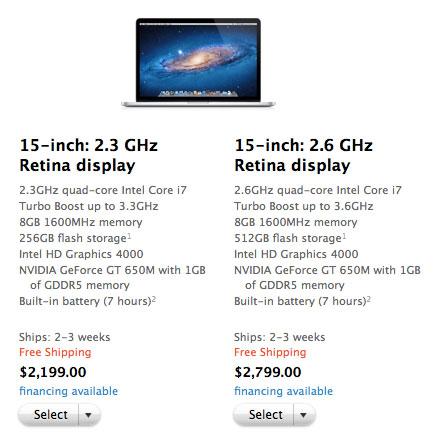 AppleInsider may earn an affiliate commission on purchases made through links on our site.
Though the new 15-inch MacBook Pro with Retina display launched when it was announced on Monday, estimated shipping times for the next-generation notebook have already slipped to two to three weeks at Apple's online store.
Both the 2.3 gigahertz model with 256 gigabyte flash storage, which sells for $2,199, and the 2.6 gigahertz model with 512 gigabytes of flash, for $2,799, are now estimated to ship in two to three weeks. Those shipping times suggest Apple's initial run of new MacBook Pros have already sold out.
The next-generation MacBook Pro was announced Monday by Apple as a new addition to its MacBook lineup. The company has called the new notebook "the most beautiful computer we have ever made."
The new MacBook Pro takes design cues from the MacBook Air by ditching the optical disc drive for a thinner profile and relying solely on flash memory. It also features a new high-resolution Retina display that is exclusive to the next-generation MacBook Pro.
The new MacBook Pro features a 2,880-by-1,880-pixel screen that jams 220 pixels per inch into its 15.4-inch frame. Apple has also said glare has been reduced by 75 percent on the new display.
It also sports upgraded connectivity options, such as USB 3.0 and a dedicated HDMI out port. It also sports two high-speed Thunderbolt ports, and a built-in SD card reader.
While the next-generation MacBook Pro with Retina display ships in two to three weeks, estimated shipping times for the updated 13- and 15-inch MacBook Pros featuring the previous generation's design are listed as "in stock," suggesting they are available to ship immediately.
Apple also updated its MacBook Air lineup on Monday, adding Intel's latest Ivy Bridge processors to its thin-and-light notebook lineup. All standard configurations of both the new 11- and 13-inch MacBook Airs are also advertised as "in stock" to ship as soon as possible.