Teardown of 2012 MacBook Air finds revised flash memory connector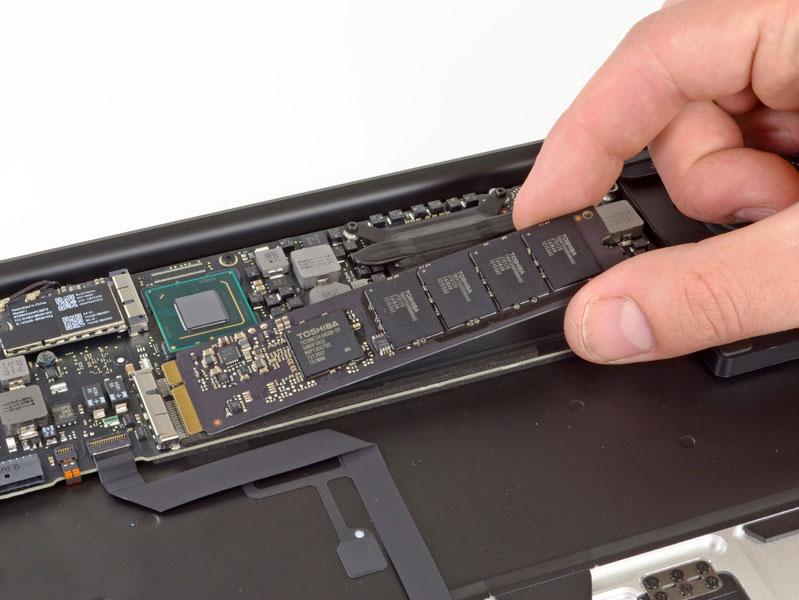 AppleInsider may earn an affiliate commission on purchases made through links on our site.
Apple's new Ivy Bridge-equipped MacBook Air features a design largely the same as its predecessor, though a few minor tweaks have been implemented, most significantly a redesigned connector for the flash memory module.
The new MacBook Air was disassembled for a closer look on Tuesday by iFixit. They found a Toshiba flash memory module with a completely new design based on a SandForce SATA-III controller chip.
Other changes to the MacBook Air are much smaller. For example, symbols identifying the ports on the side of the thin-and-light notebook have been moved from the right side of the ports t the left.
The new 13-inch MacBook Air, model A1466, also features the new, smaller MagSafe 2 power adapter on its left side, along with a USB 3.0 port and the headphone jack. Also included along the left side is a new microphone.
Even though the new MacBook Airs features Intel Ivy Bridge chips, the notebook's thermal management is the same as last year. The solutions provider said the diminutive heat sink used on the ultra-low voltage chip is "a testament to modern processor efficiency."
The 2012 MacBook Air also features the same Broadcom BCM4322 Intesifi Single-Chip 802.11n Wi-Fi Transceiver, and Broadcom BCM20702 Single-Chip Bluetooth 4.0 Processor with Bluetooth Low Energy support. The stereo speaker design is also identical to models released in 2011 and 2010.
The similarities between the new and previous MacBook Air are so numerous that iFixit began to take note of various stickers on certain components that have been rotated from their previous positions.