Blizzard further optimizing 'Diablo III' for MacBook Pro Retina display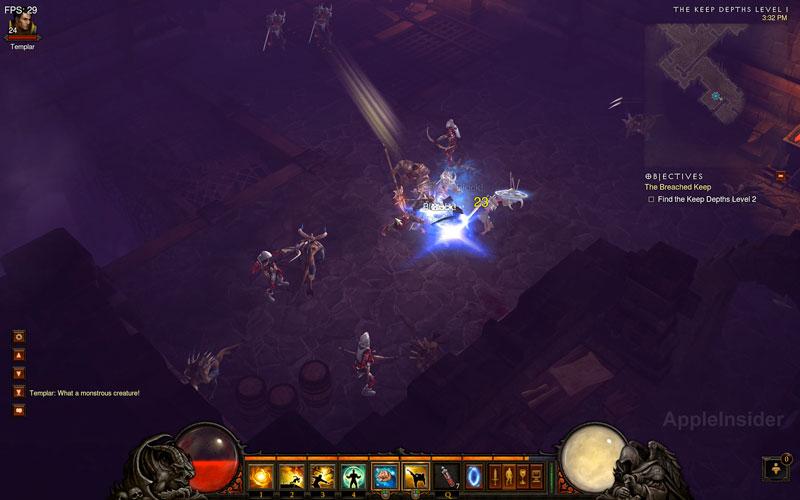 Though the blockbuster game "Diablo III" currently runs on the new MacBook Pro at the native resolution of its Retina display, developer Blizzard has indicated it is working on further improvements to the title specific to Apple's latest notebook.
In an official statement given to AppleInsider, Blizzard said it was "pleased" that Apple decided to include Diablo III in its keynote presentation at the Worldwide Developers Conference last week.
"While we can confirm that the game runs natively on and takes full advantage of the full screen resolution for the new MacBook Pro, we need to do some work to optimize it for windowed mode on the new system," the developer said. "We will provide our Mac players with an update when we have further details to share."
AppleInsider tested Diablo III on the new MacBook Pro with Retina display, and the results were detailed in the official review published this week. It found that the title consistently ran around 30 frames per second when playing at the highest possible resolution of 2,880 by 1,800 pixels with all settings on high and anti-aliasing disabled.
At last week's WWDC keynote, Phil Schiller, Apple's senior vice president of Worldwide Product Marketing, highlighted Diablo III as one application that would benefit from the new Retina display on the next-generation MacBook Pro.
"You're going to see a gaming experience with this resolution unlike any you have ever seen before," Schiller told the audience.
He also revealed that Apple had been working with "key developers" prior to the announcement to help ensure that their software looks up to standard on the new Retina display. While Blizzard's game was shown off on stage, Schiller never specifically said that Apple had worked with the developer regarding Diablo III's performance on the new MacBook Pro, and Blizzard did not answer a question about how closely it worked with Apple.
Also highlighted by Schiller last week were new Retina display-compatible versions of Adobe Photoshop and Autodesk's AutoCAD. Schiller said that the development team at Adobe is doing "amazing work" on a version of Photoshop that will be "jaw dropping," while the updated AutoCAD will allow "a level of detailed work and design never possible on a notebook before."