Inside OS X 10.8 Mountain Lion GM: Safari 6 adds iPad-style iCloud-shared tabs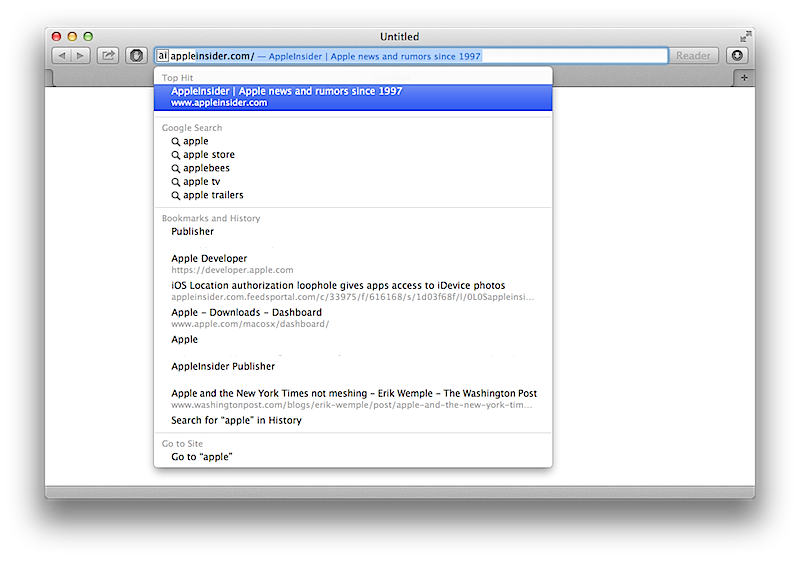 Safari turns 6 in this summer's release of OS X Mountain Lion, offering a new view of open tabs similar to iPad and a new iCloud tab-sharing feature, along with an offline Reading List, new website passwords browser, new privacy settings, and a feature that allows websites to send alerts to the new Notification Center.
Apple's latest build of Safari 6.0 builds upon features previously outlined for what was originally called Safari 5.2, which brought a unified new user interface with one field for both Web, bookmark and history search as well as for directly entering a URL. That change also removes the SnapBack button and creates room for an always-visible Reader button.
Safari's new unified user interface, anti-phishing URL highlighting, emphasized Reader feature and prominent Share Sheet features (all depicted below) were detailed earlier in the year, but Apple has continued to work on its browser in the months since.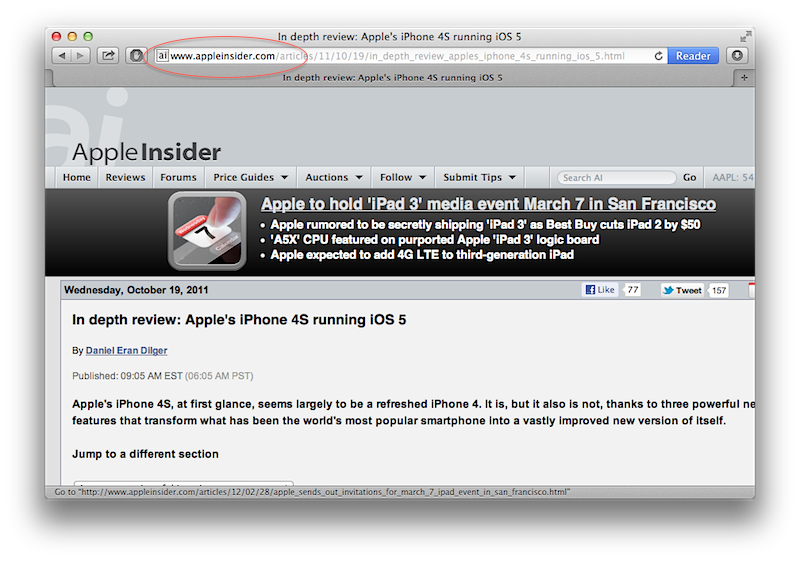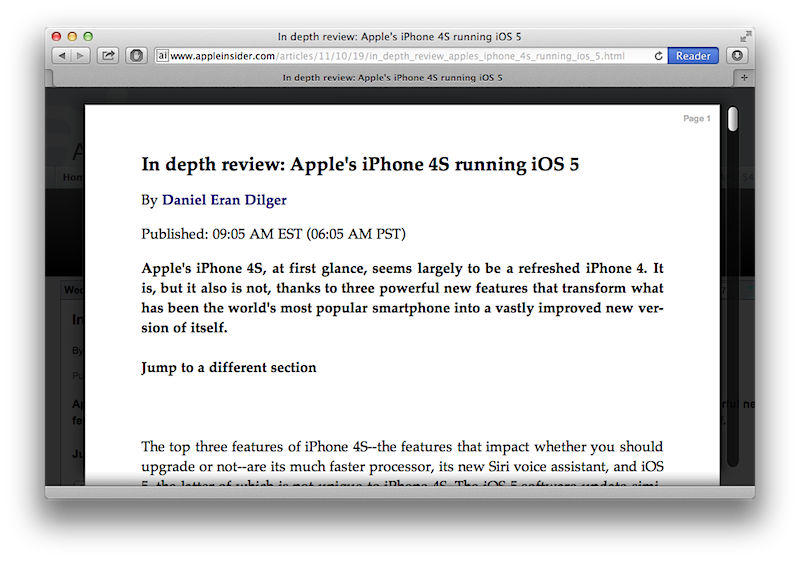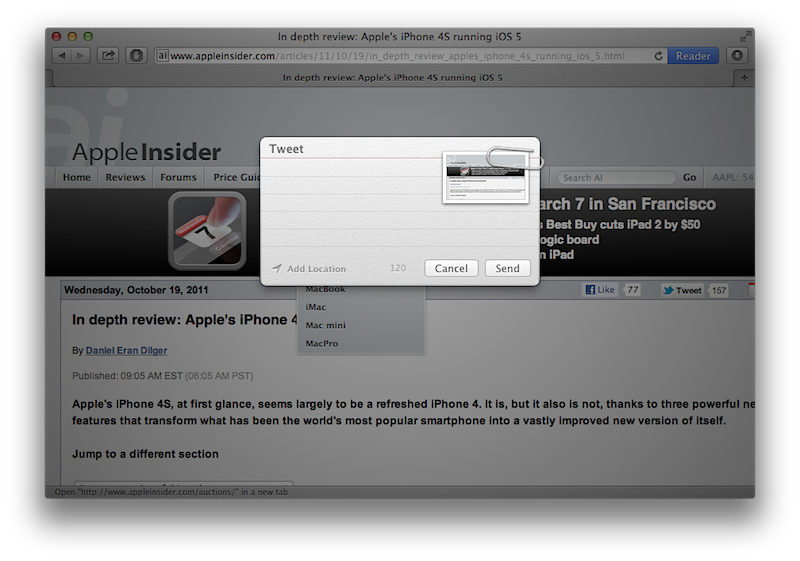 Safari 6 introduces a new Exposé-like tab view similar to that already available on iPad. Click the "Show all tabs" button in the Tab Bar, and you can visually review what's going on in each open tab, flicking between the scaled-down open tabs within the browser window, and clicking on any one of them to make it the current tab.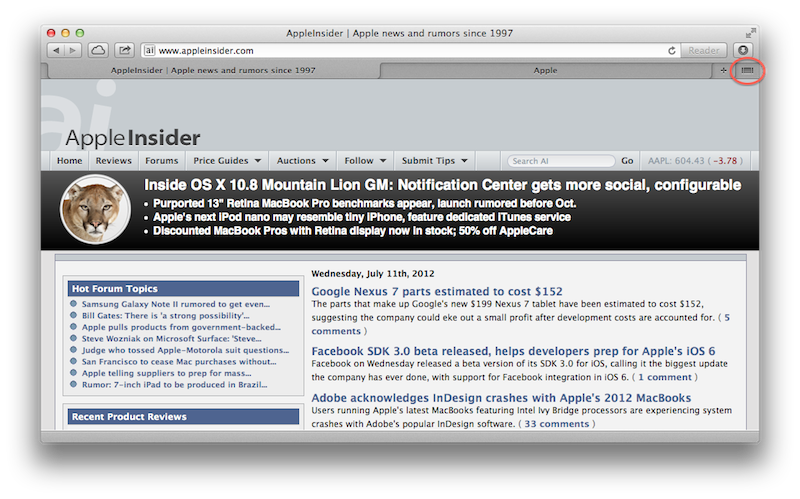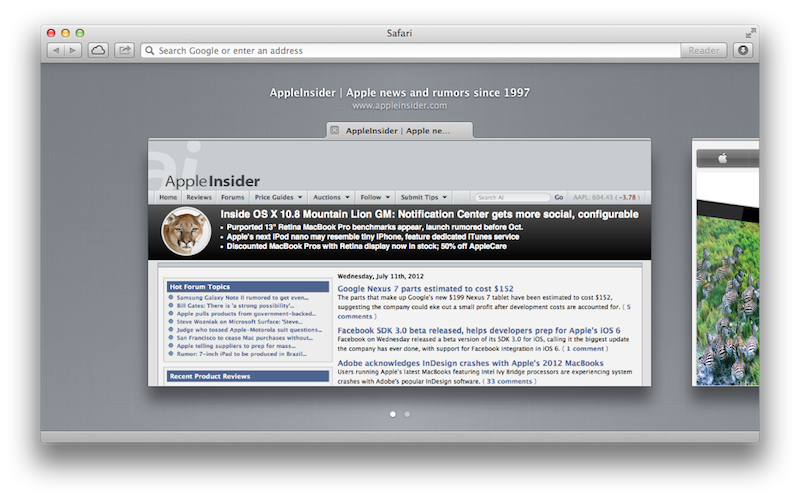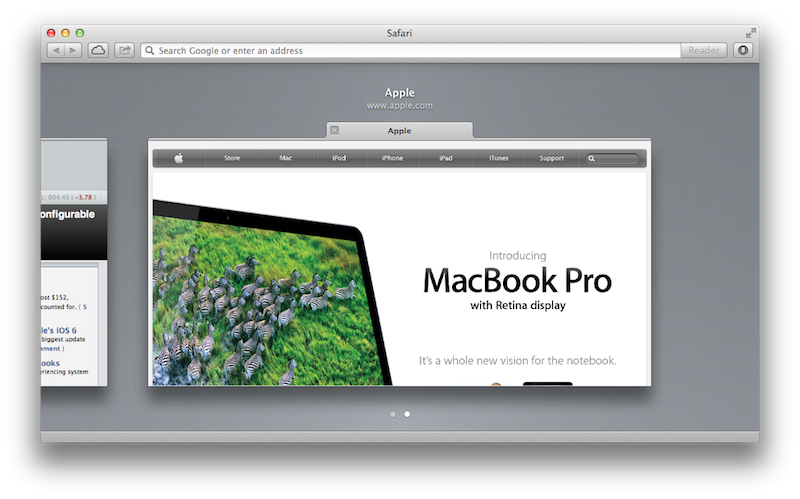 iCloud sharing of open tabs
Apple has also introduced a new iCloud sharing feature that enables Mountain Lion Safari 6 users to share open tabs between systems that use iCloud. Clicking on the new iCloud icon in the Toolbar presents a popup that states "iCloud automatically shows all the open tabs on your other devices."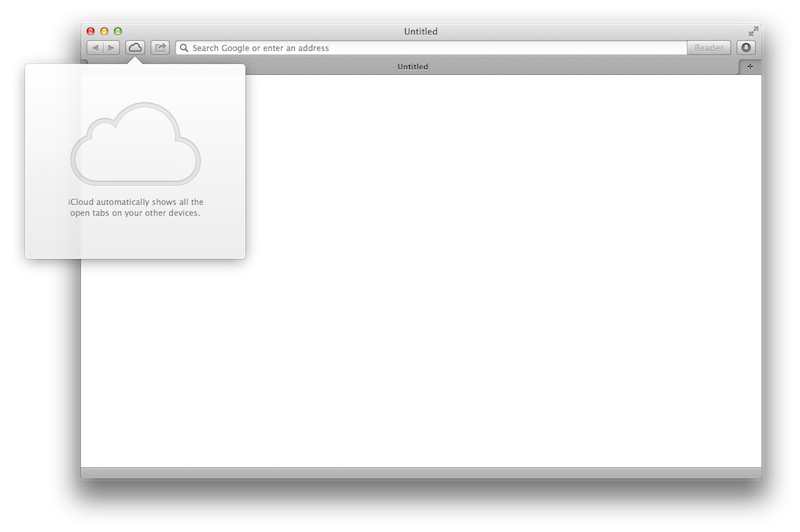 Once you have multiple iCloud-connected Macs using Safari 6, however, you'll get a popup that includes all the active tabs you have open on your other computers. Apple hasn't yet made any announcements about bringing this feature to iOS but it seems very likely that it will eventually appear there, too.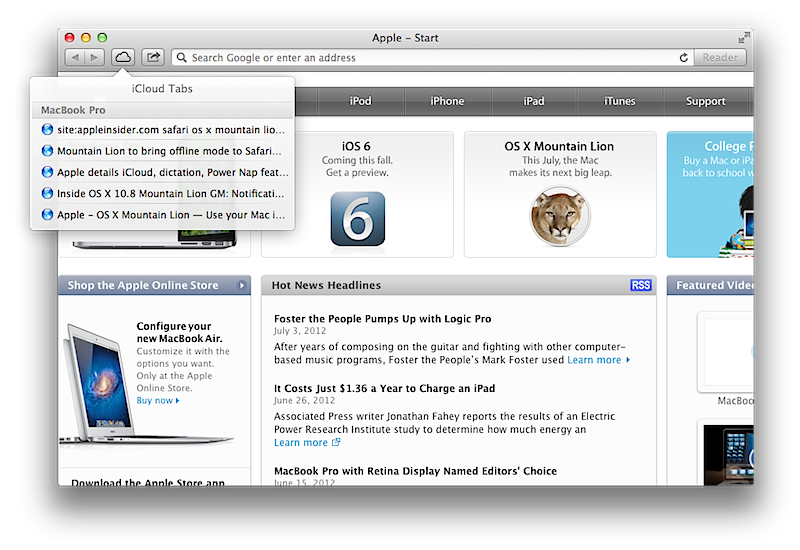 New notification settings
Apple previously added a variety of new options related to passwords, privacy settings, and Notification Center support for websites. In Safari 6, Notifications gets its own pane in Safari Preferences, which lists the websites that "have asked permission to show alerts in Notification Center."
The new feature will allow web developers to post updates (if the user gives permissions) just like a local app, putting web apps and other cloud based services in this regard on the same footing as native local apps. Safari preferences still uses the same older-style notifications icon that currently appears in System Preferences; it may be that this will be replaced with the new icon now being used in Notification Center.
As Safari previously noted in earlier builds, "a website that is allowed in Notification Center can only send you alerts when it is open in Safari."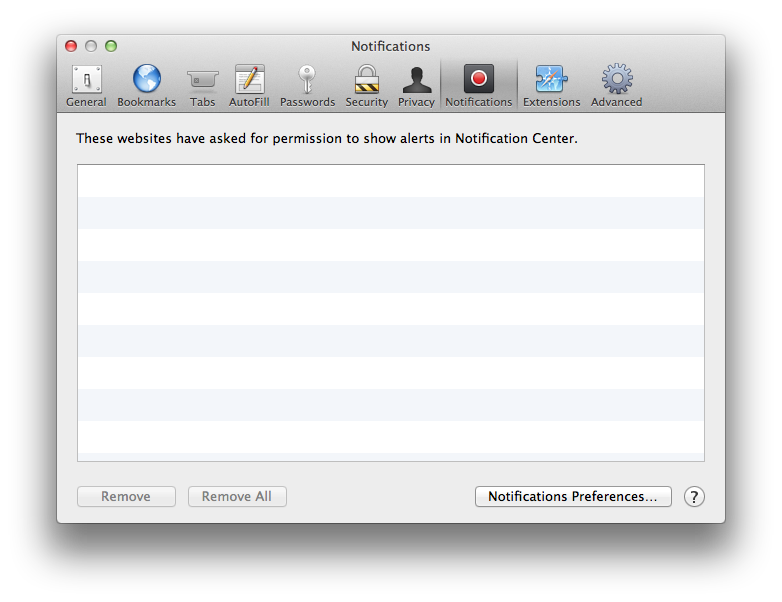 New preferences pane for passwords, privacy
Mountain Lion's Safari 6 preferences provide a new Passwords browser for finding and recovering (or removing) saved passwords you've entered on websites. This works similar to Keychain on a system level. From Safari's Preferences, the Password pane presents a list of the sites you've saved a password, the user names you've entered, and the passwords (revealing them requires entering your system password).
Safari 6 also makes some subtle changes in how it presents privacy options. Safari is still set by default to "block cookies from third parties and advertisers," (the feature Google got in trouble for bypassing) although the preferences Privacy pane (shown below) now offers to "ask websites not to track me" rather than wording the "Do Not Track" option as "tell websites not track me."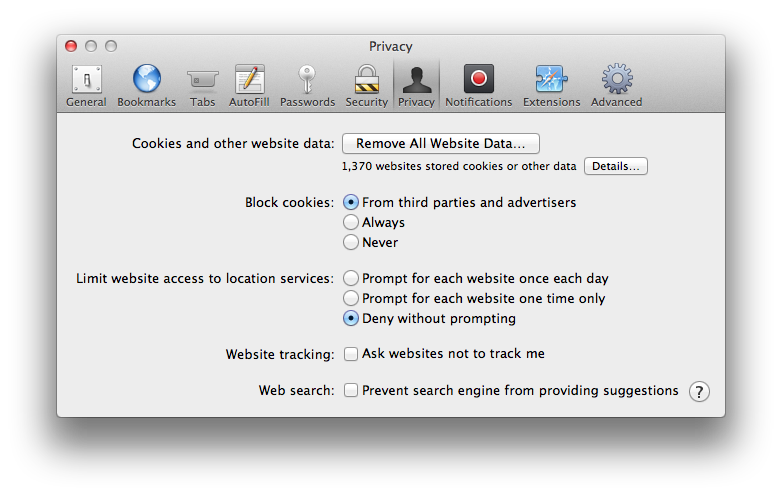 Do Not Track is a feature that has been added to all browsers apart from Google's Chrome, and currently only "requests" that web servers not track the user returning it. Wikipedia notes that "websites are not legally required to comply with do not track requests, neither by law nor by broad social consensus, and therefore very few websites recognize and respect this privacy signal."
Apple has also changed the setting for "allow search engine to provide suggestions" (set on by default) to the more active sounding "prevent search engine providing suggestions," and option that is turned off by default.
Removed RSS, Offline Reading List and other options
Safari (along with the new Mail) erases RSS as a tacked on feature. The RSS reader features in both Mail and Safari were rather bare bones, making a standalone RSS client more attractive for most users. With RSS removed from Safari, it's not clear whether Apple is just backing out of RSS reader support or if (perhaps more likely) it is gearing up to release a standalone new RSS reader of its own, perhaps tied into Podcasting and other applications of RSS.
Safari 6 has also added an offline reading list feature, enabling users to read sites added to the Reading List even when not connected to the Internet. Safari automatically presents Reading List as an option when it can't connect to the network.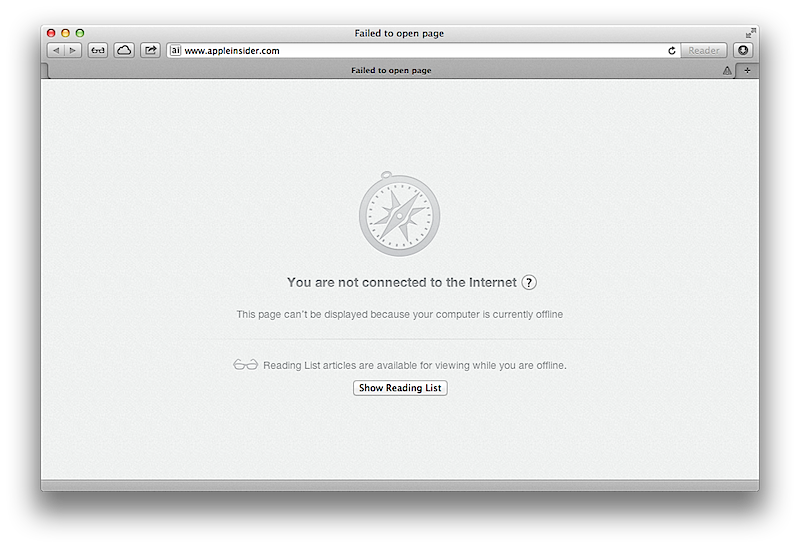 Other features missing or changed in Safari include the Standard and fixed-width font selections under Appearance (the entire pane is simply no longer there in preferences) as well as the Security pane option to "ask before sending a non-secure form from a secure website," which appears to have been made the default behavior.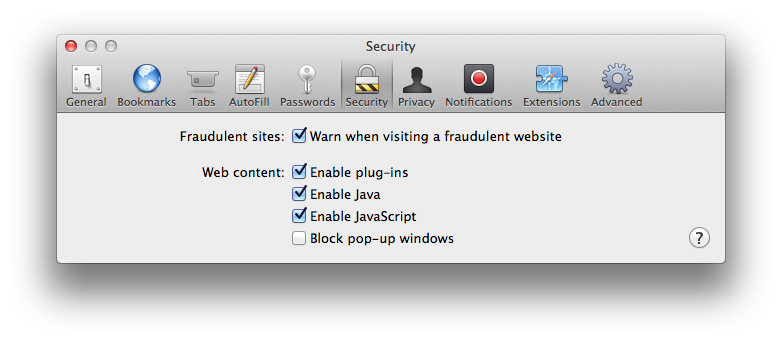 The Advanced pane removed an option for database storage size selection (for HTML5's "super cookies"), but now ads a default encoding option for text. Additionally, in Safari 6 the option to "Block popup windows" has been restored after going missing in some developer builds.
AppleInsider has affiliate partnerships and may earn commission on products purchased through affiliate links. These partnerships do not influence our editorial content.