Microsoft says Apple's 'post-PC' view is wrong, claims it's a 'PC+' era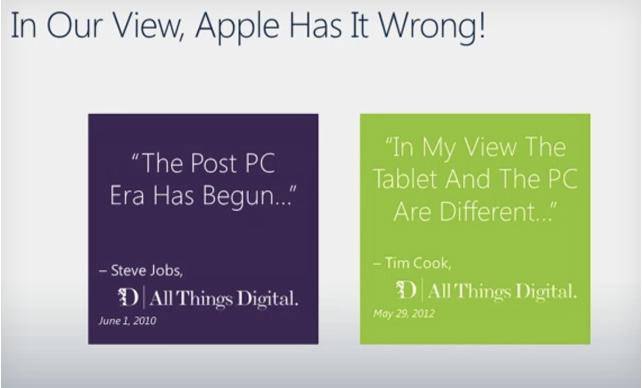 AppleInsider may earn an affiliate commission on purchases made through links on our site.
Speaking at the company's Worldwide Partner Conference on Wednesday, Microsoft Chief Operating Officer Kevin Turner refuted Apple's "post-PC" view of the current computing industry climate, instead dubbing it a "PC+" era.
Turner admitted that Microsoft and Apple have different approaches to computer operating systems with the Cupertino, Calif. company focusing on a divergence in mobile and desktop solutions, reports The Verge, but claims that the Windows maker has the correct interpretation of what consumers want and need.
"Apple makes great hardware," Turner said. "The reality is in the OS we see things differently. They've talked about it being the post-PC era, they talk about the tablet and PC being different, the reality in our world is that we think that's completely incorrect."
The executive described the "PC+" world as one that uses a unified OS between all devices, as seen in Microsoft's new Surface which will run a complete version of the company's upcoming Windows 8 platform. The stripped-down down ARM-centric Windows RT version of Surface was not mentioned.
"We actually believe Windows 8 is the new era for the PC plus," Turner said. "We believe with a single push of a button you can move seamlessly in and out of both worlds. We believe you can have touch, a pen, a mouse, and a keyboard."
In contrast to Microsoft's ideas late Apple co-founder Steve Jobs famously said: "If you see a stylus, they blew it."
Current Apple CEO Tim Cook's ideas are in line with the Jobs' and sees Microsoft's PC convergence as poorly conceived. During the iPad maker's second quarter conference call, Cook said "you can converge a toaster and a refrigerator, but you know, those things are probably not going to be pleasing to the user." He went on to explain that while certain aspects of OS X and iOS borrow from each other, tablet and desktop form factors require different software solutions due to how the devices are used by consumers.
Microsoft is looking to create an ecosystem of products with a best-of-both-worlds approach which is expected to take shape when Windows 8 is released this October. Turner calls the newly-designed operating system a "game changer."