As PC sales stall, Apple projected to sell 69M iPads in 2012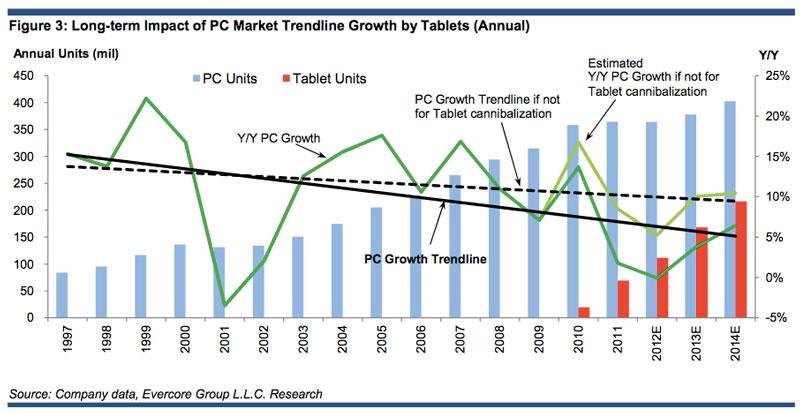 Apple's iPad is expected to continue dominating the tablet market with a share higher than 60 percent, while PC sales are projected to continue their downward trend, according to a new analysis.
Analyst Rob Cihra with Evercore Partners revealed in a note to investors on Monday that he has cut his projected PC sales for the remainder of the year. He sees traditional computer sales dropping 4 percent year over year in the third quarter of calendar 2012, while overall PC growth for the year will be flat with 2011.
Cihra believes sales of tablets like Apple's iPad are responsible for "at least half" of the PC market's current decline. He noted that consumer PCs have struggled ever quarter since they topped out in the third quarter of 2010, which is just one quarter after Apple launched the first-generation iPad.
His projection comes only days after the latest estimates show PC shipments dropped 0.1 percent worldwide and 5.7 percent in the U.S. in the June quarter. One of the few bright spots in the market was Apple, which saw its domestic Mac sales grow 4.3 percent.
While Cihra believes PCs will continue to struggle going forward, even with the launch of Microsoft's new Windows 8 operating system, he has big expectations for the iPad. His forecast calls for Apple to sell 69 million iPads in calendar year 2012, taking more than 60 percent of the market, even in the face of competition from Microsoft's Surface tablets and Google's Nexus 7.
For the just-concluded June quarter, Cihra sees Apple having sold 16.5 million iPads, which would represent 78 percent year-over-year growth. That's slightly higher than the 16 million iPads Gene Munster with Piper Jaffray believes Apple sold, while lower than the 20-million-unit projection from Charlie Wolf of Needham & Company.
Cihra believes that a quarter of tablet purchases are truly direct replacements for PCs, while another quarter are "effectively" replacing PCs, as users delay purchasing a new computer by getting an iPad or another tablet.
"PCs now need to compete both directly/functionally and more so indirectly (for discretionary spend/mindshare) against 'thin client' architectures/ecosystems," Cihra wrote in his note to investors on Monday.