Inside OS X 10.8 Mountain Lion GM: new iOS-style Accessibility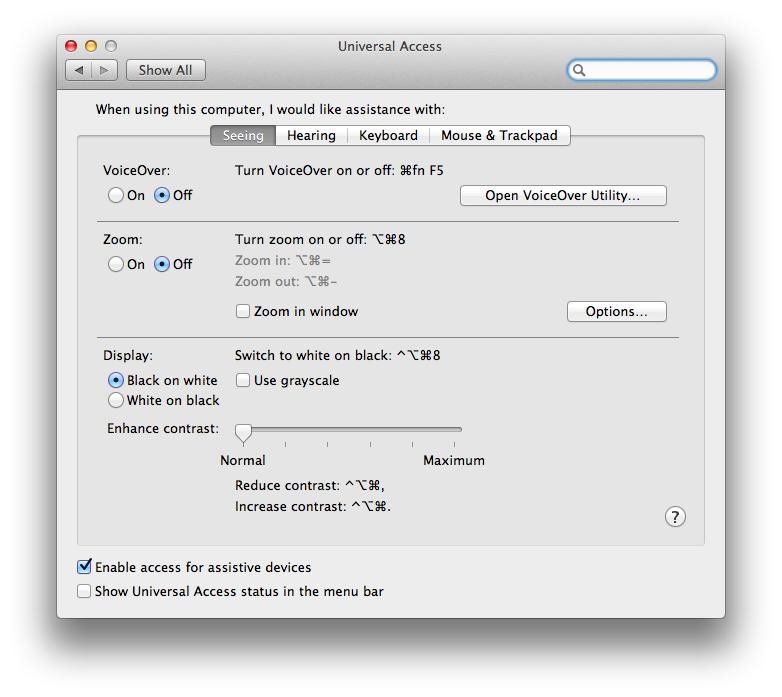 AppleInsider may earn an affiliate commission on purchases made through links on our site.
In OS X Mountain Lion, Apple is radically improving the layout of Universal Access features for users who are sight, hearing or motor impaired, and changing the name of its portfolio of features to match iOS: "Accessibility."
Apple has long been associated with making technology easy to use, and a significant part of that commitment has applied to users with special challenges in seeing, hearing or physically interacting with the company's devices.
The company pioneered many early concepts to help disabled users gain expanded access to computers, including features such as Mouse Keys and Sticky Keys on the original Macintosh.
In OS X 10.4 Tiger, Apple added a spoken interface called VoiceOver, which built a screen reader (previously an expensive third party option) into the operating system to allow sight impaired users to navigate windows and menus via auditory cues. VoiceOver has since been incorporated into iOS for use on Apple's mobile devices, as well as on the iPod Shuffle.
In 10.5 Leopard, Apple added the advanced Alex voice to make VoiceOver even more useful, and it has further expanded its voice selection since, using RealSpeak voices licensed from Nuance. VoiceOver currently supports over 30 different languages and dialects.
Along with VoiceOver, screen zoom, contrast, cursor size and related features for making the desktop easier to use by people with visual impairments are currently squashed, "Panther Era style," into the Seeing tab of the Universal Access preferences pane (below). Other tabs contain Hearing, Keyboard features and Mouse and Trackpad options related to accessibility.
In Mountain Lion, these features are given a facelift for the new Accessibility pref pane, which presents a more modern looking, graphical menu of options related to the Display, Zoom, VoiceOver, Audio, Keyboard and Mouse & Trackpad (shown below).
The new pane also presents the Speakable Items section that has been removed from the Speech pref pane to make way for Dictation features. Once referred to as "Speech Recognition," the Speakable Items features are now most applicable to users who rely on them for accessibility features.
This revamping of the user interface isn't the only new accessibility feature in Mountain Lion; Apple says it is adding support for 14 new braille displays (on top of the 40 USB and wireless devices Apple already supports out of the box), and Mountain Lion's VoiceOver now supports press and hold buttons, dragging items to hotspots, and drag and drop modifier keys (such as Command and Option). The Accessibility pane also now has a universal keyboard shortcut: Option+F5.
Late last year, blind-from-birth musician Stevie Wonder praised Apple for its pioneering efforts in making its devices accessible to users with disabilities. "I want you all to give a hand to someone that you know whose health is very bad at this time," Stevie Wonder said to his audience. "His company took the challenge in making his technology accessible to everyone. In the spirit of caring and moving the world forward, Steve Jobs."